Intel Shows Off New Haswell Chips for Ultrabooks and Tablets
Intel has released details about its next generation of computer chips, named Haswell, which are due to be released in the middle of next year and will be used in everything from servers to tablets.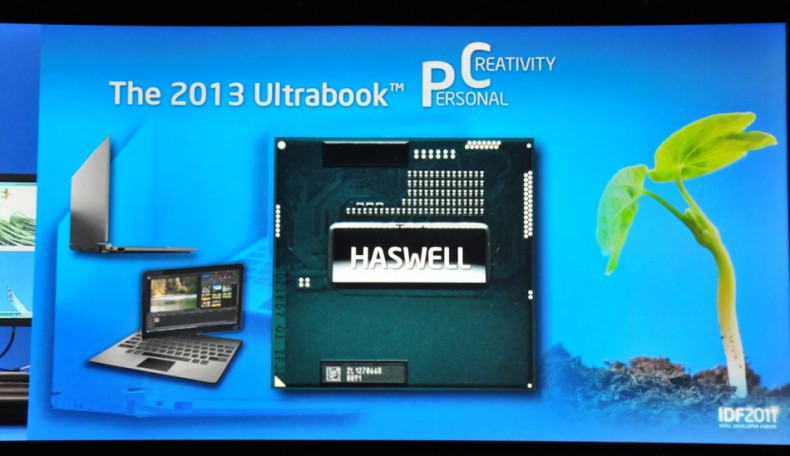 The emphasis of the new Haswell chips is on energy efficiency and Intel said that one version of the new processor will run at ten watts, which is half the power needed to run the company's current range of Ivy Bridge chips.
The Haswell chip is what is known as a 'tock' in Intel's development program, which means a completely new processor architecture, compared to the 'tick' that was Ivy Bridge, the current generation of processors from Intel.
The headline feature talked up by the company at the Intel Developer Forum (IDF) in San Francisco this week was that Haswell chips are set to offer improved battery life over the current generation of chips, while also offering imprvoed graphics performance. Intel added that the chips are designed to better support "perceptual" tasks like facial analysis, voice recognition and depth perception.
The Haswell chips will be manufactuered using the same 22nm process and 3D tri-gate transistors as the latest Ivy Bridge chips.
Intel hopes that the new chips will inspire manufacturers to create more Ultrabooks, tablets and convertible devices - those which include a tablet with a detachable keyboard dock.
"The 4th generation Intel Core processor family and our new line of low-power processors will usher in an era of unprecedented innovation in mobile computing," David Perlmutter of Intel said at the company's Developer Forum in San Francisco.
"Our focus to deliver even lower power with the great performance that our processors are known for is as fundamentally significant as when we shifted our development focus beyond sheer processor speed in 2001. As a result, you'll see our customers delivering sleek and cool convertible designs, as well as radical breakthrough experiences across a growing spectrum of mobile devices."
Intel said it is impressed with how quickly manufacturers have taken to the Ultrabook design and worked with it, adding that more than 140 different Ultrabook designs are currently in development and a number of these are convertible devices.
Look ahead to the launch of Windows 8 at the end of October, Perlmutter said that Intel Atom- and Core-based tablets and convertibles will deliver a range of new features from enhanced media capabilities.
"We believe Windows 8 on Intel architecture will deliver the best experience, performance and compatibility across computing platforms," he said.
Intel plans to release two versions of the Haswell processor, one requiring 15 watts and the other requires ten watts, representing an energy saving of 29 percent and 52 percent respectively over the current Ivy Bridge chips.
With regard to the growing market of speech recognition, Intel is working with Nuance to create a software kit to help developers make applications that fully utilise the new chip's potential.
Although ARM has a huge head start over Intel when it comes to processors used in smartphones and tablets, Gartner analyst Sergis Mushell told the BBC: "ARM's current dominance in the sector comes from the fact they were in the smartphone business when Intel wasn't and this technology has now been leveraged for tablets,"
"This allowed people to innovate and create a new ecosystem in which many of the tablet makers - such Apple and Samsung - make their own ARM-based chips, and it would be very difficult to adapt these machines to run on Intel chips in the short-term.
"But if a tablet comes out that has the true performance of a laptop and the backward compatibility to all the work and creativity users can do on a Windows computer, then Intel has a shot to run alongside ARM... with an alternative form factor to a clamshell."
Intel has launched Haswell with a 'mobile first' approach, meaning tablets and laptops will get the chips first before desktops and servers.
While ARM-based chips are still winning in terms of power consumption, Haswell will offer tablet makers a very interesting choice. It will give them the choice to put a lot more powerful chips into their tablets, which for some will be a very enticing prospect indeed - especially if Intel's claims on power efficiency proof valid.