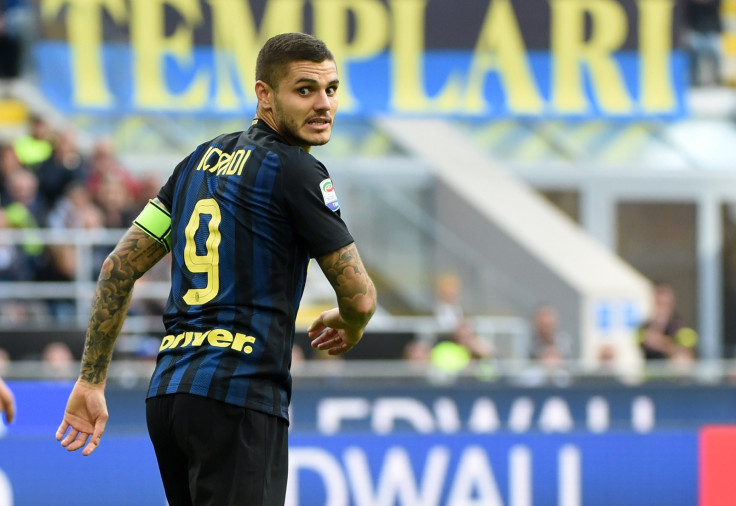 Mauro Icardi will stay at Inter Milan, according to his wife and agent Wanda Nara. The 23-year-old striker recently became involved in a bitter feud with Inter's Ultras, but Nara Icardi has insisted her husband will not be pushed out of Inter.
Icardi incurred the wrath of the notorious Curva Nord – home of the hardcore supporter group – when he claimed to be have become an "idol" in the Inter dressing room after confronting leaders of the Ultras.
In his recently-published book, Icardi said he clashed with a supporter after he ripped a jersey he'd given to a small child from his hand. The Inter captain added that he would "bring 100 criminals from Argentina who will kill them".
The bizarre scenario has cast doubt over Icardi's long-term future at Inter, with Arsenal rumoured to have been among the clubs interested in signing him during the summer transfer window.
But asked if her husband was likely to leave the Serie A giants, Nara told Corriere della Serra of the reported Arsenal target: "Get that out of your head. He will not go away from Inter, will stay 100%. He is – and will stay – the captain, which has not been in doubt.
"He had opportunities to leave last summer but chose to stay because of the relationship he has with the fans and because he is attached to Inter."
Since the feud erupted, Icardi has seen a recent penalty miss cheered by Inter fans, while supporters have also hung up banners labelling him a mercenary. The Inter striker has since decided to backtrack on some of the claims made in his book.
"Mauro didn't want to offend anyone, but when certain things written they have a different effect – it misrepresents the tone," Nara said. "For this reason, he decided to take [those words out of] the reprint. The book is almost sold out, in the new version those words will not be there."