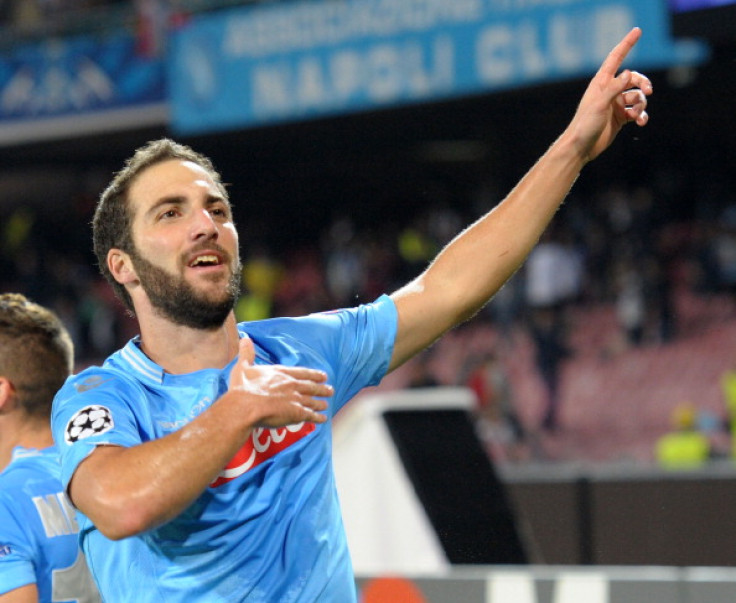 Napoli striker Gonzalo Higuain's brother Nicolas, who also represents the player, has revealed that no club has enquired about the striker contrary to reports suggesting that Arsenal and Chelsea are interested in signing the Argentine forward.
According to Corriere Dello Sport, the Gunners have had a €60m (£43.2m, $66.6m) bid rejected by the Serie A club for the striker, while The Independent suggests that Chelsea are preparing a £30m ($46.8m) bid.
Napoli president Aurelio De Laurentiis has made it clear to interested clubs that Higuain will only be allowed to leave the club if they are willing to meet his €90m (£64.7m, $100.7m) release-clause.
"Sell Higuain for €90m? I'd like to sell him," De Laurentiis said in a conversation with a fan according to The Independent. "That way I can buy eight players for the club!"
However, the Argentine forward's agent has quashed speculation regarding potential bids from interested clubs and confirmed that there has been no approach from any of the above mentioned sides.
"No club has asked me about Higuain, and I wonder why De Laurentiis keeps talking about the clause," he told Radio Crc, as quoted by the Liverpool Echo
"The last time I saw De Laurentiis was at San Paolo after the Lazio match, having dinner with the team and former coach [Rafael] Benitez."
"Only the President talks about Higuain's clause and it make it look like he wants to sell. I think if Napoli wants to fight for the Scudetto they shouldn't let Higuain go."
"No team has asked me for Higuain, I don't know if De Laurentiis has had any offers, because as I've said I haven't heard from the president for a long time, but I think he'd have called me if there was something concrete," the former Real Madrid forward's representative added.