Olympics fans have been told to limit their tweeting, after huge mobile internet use over the opening weekend of the games caused communication problems between cycling timing equipment and commentators.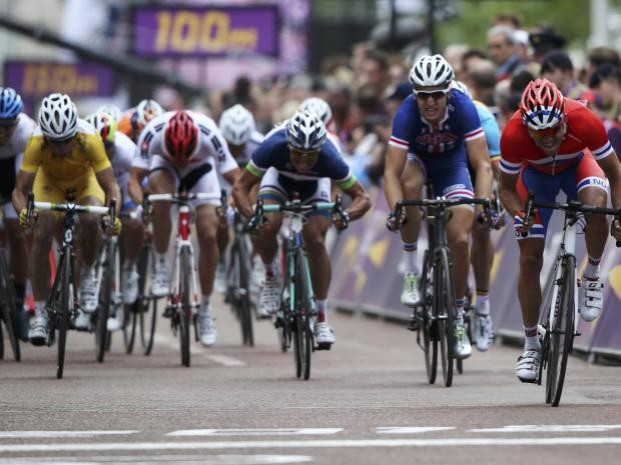 Commentators on Saturday's men's road race and Sunday's women's road race, which saw dozens of cyclists ride from central London to Box Hill in Surrey and back, were unable to tell viewers how far ahead the leaders were from the chasing pack, including Britons Mark Cavendish and Bradley Wiggins
The problem is being blamed on heavy smartphone use interfering with GPS satellite navigation equipment carried by the cyclists.
An International Olympic Committee spokesman told Reuters that heavy use of Twitter and live streaming of the event to smartphones was to blame.
He added: "Of course, if you want to send something, we are not going to say 'Don't, you can't do it', and we would certainly never prevent people. It's just - if it's not an urgent, urgent one, please kind of take it easy."
A route through central London's roads is scheduled for the women's and men's marathon, due to take place on 5 August and 12 August respectively.
The BBC estimated that a million fans lined the streets from London to Surrey for the cycling road races, which were free to watch in all but a couple of key locations, and an explosion in smartphone usage since the last Olympic games in 2004 has dubbed London 2012 the first "social media games".
Problems in communication during the road races meant commentators and cyclists alike were not given times and information on where the leaders were during the key closing miles of the route.
The IOC spokesman added that the problem appeared to lay in oversubscription on one particular network, and talks had taken place in an attempt to share more of the data. "It is a network issue, and it is that which we are working on," he said.
Official 2012 Olympic communications service provider BT, along with Vodafone and O2, said they had not seen any network problems, with BT adding that it is providing four times the network capacity of the 2008 Beijing Olympics.
Following a request for comment, O2 told IBTimes UK: "The mobile phone industry has been planning for over two years and O2 alone has invested £50m in London 2012 - increasing capacity on the current network and building new temporary sites across the country.
"Overall our network is performing well and, on top of that, Wi-Fi will also play a huge role for those people who will want to use data services at the Games, including Facebook and Twitter."