UPDATE: [ 'Absinthe 2.0' Release Confirmed, Check out the Tutorial Below (Scroll Down)]
The past few weeks have been anxious ones for people waiting for the release of the iOS 5.1.1 untethered jailbreak, believed to be called Absinthe 2.0. The release is expected at the high-profile Hack in the Box (HITB) conference, being held at Amsterdam. The conference is expected to conclude on Friday, 25 May at 6 pm local time. There is already a video, uploaded by xvolks - a member of the jailbreak team, of the software in action.
Until now, Absinthe 2.0 has successfully jailbroken all Apple devices running iOS 5.1.1, with the exception of two devices - the global version of the new iPad and the iPad 2 Wi-Fi, R2 - which are yet to be tested with the new jailbreak tool. On Thursday, pod2g confirmed, via a Twitter post, about the addition of the iPad 3,3 to the list of supported devices.
"OK just added iPad3,3 support to Absinthe thanks to @flawlessfox. Only remains iPad2,4 now but we need the actual device," pod2g tweeted.
Here's the updated list of devices that the new jailbreak will support:
Tested devices: iPhone 3GS, iPhone 4, iPhone 4 CDMA, iPhone 4S, iPad 1, iPad 2 Wi-Fi, iPad 2 GSM, iPad 2 CDMA, iPad 3 Wi-Fi, iPad 3 CDMA, iPad 3 Global, iPod 3G,iPod 4G and Apple TV 2.
Devices still to be tested: iPad 2 Wi-Fi, R2.
Unsupported devices: Apple TV 3.
Will the Jailbreak be Released at the Conference on Friday?
As iDownloadBlog notes, pod2g's recent tweets and blog posts hint at a live demonstration of the untethered jailbreak at the (HITB) conference. Moreover, the official Twitter account for the HITB Security Conference confirms a "Jailbreak Live" event will take place on Friday. There is also talk of special one-day passes given to those at the venue during earlier days.
"SPECIAL @chronicdevteam 1-day passes for #HITB2012AMS @ EUR699! Come see @pod2g @p0sixninja @planetbeing @nikias JAILBREAK LIVE (Pls RT)," reads the Ttwitter message from the official HITBSecConf Twitter account.
If the public release of the jailbreak is planned for HITB, what time would it happen?
Amsterdam is 6 hours ahead of EST and the official hours of the conference schedule is between 09:00 am and 18:00 pm local time in Amsterdam. Hence, the earliest release of the jailbreak could be at 3 am EST, on Friday, 25 May.
More interesting tidbits are revealed from DevTeam and Chronic Dev Team's official event calendar and time-table, which depict actual times that each of the jailbreak members are scheduled to present their paper work. According to iDownloadBlog, the odd thing is the event calendar lists the exploit as being for 5.0.1 instead of 5.1.1, which could be a typo unless the hackers actually intend to talk about the exploits for older untethered jailbreaks that released way back in January.
Hack In The Box Conference Time-Table: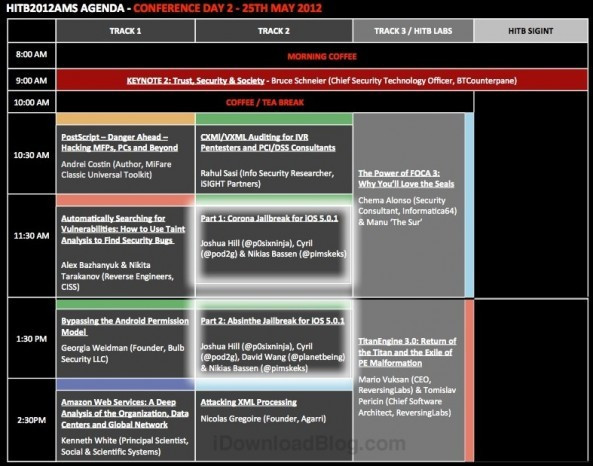 Click here to view the complete event calendar for the HITB conference.

The event agenda lists the following times for each presentation:
24 May
11:30: Evolution of iPhone Baseband Unlocks - MuscleNerd
25 May
11:30: Corona Jailbreak - Joshua Hill AKA @p0sixninja, Cyril AKA @pod2g, and Nikias Bassen AKA @pimskeks
13:00: Absinthe - Joshua Hill AKA @p0sixninja, Cyril AKA @pod2g, David Wang AKA @planetbeing, and Nikias Bassen AKA @pimskeks
UPDATE: Absinthe 2.0 Jailbreak is Finally Here!
"After copious amounts of work and many sleepless nights Absinthe 2.0 is finally here to jailbreak your device. This release has been a large collaborative effort between Chronic-Dev Team and iPhone Dev Teams (Jailbreak Dream Team)," said GreenPois0n earlier today.
"This jailbreak supports firmware 5.1.1 ONLY and is again one of the most easiest jailbreaks to use (so easy your grandma could do it)," the website adds.
Absinthe 2.0 jailbreak now supports the following devices running iOS 5.1.1:
iPad 1, 2 (Wi-Fi and 3G), and the new iPad (Wi-Fi and 3G). The iPad 2 (known as 2,4) which was released at £329 when the new iPad came out cannot yet be jailbroken with Absinthe 2.0.
iPhone 3GS, 4 and 4S
iPod touch third and fourth generation
How to use iOS 5.1.1 Untethered Jailbreak: Absinthe 2.0
1. Make a backup of your iOS device in iTunes by right clicking on your device name under the 'Devices' menu and click 'Back Up'.
2. Once your backup is complete return to your device and go to Settings -> General -> Reset -> Erase all Content and Settings. This will speed up the jailbreaking process.
3. Open Absinthe with your iOS device connected via USB cable to the computer.
4. Click 'Jailbreak' and wait for the jailbreak to complete.
5. Once jailbroken return to iTunes and restore your backup from earlier. Right click on your device name under the 'Devices' menu on the left side of iTunes and click 'Restore from Back Up',' then select the latest backup you created before. Restoring will return everything you had on your device, such as music, photos and text messages, but can take some time to complete.
How To Untether 5.1.1 (if you're already jailbroken):
Just search for and install "Rocky Racoon 5.1.1 Untether" from Cydia.
Absinthe 2.0 Download Links:
Mac OS X 10.5, 10.6 and 10.7 here
Windows XP, Vista and 7 here and
Linux here
New Update: How to Jailbreak iPhone 4S and iPad 2/3 Using Dev Team's Command Line Interface [VIDEO & TUTORIAL]
Finally, there is some good news for all those users facing issues with jailbreaking their iPhone 4S and iPad 2/3 with Absinthe 2.0. It is now possible to jailbreak your iOS devices by using the Command Line Interface method - an alternative jailbreak tool. It works directly from the command prompt and exclusively meant for Windows operating system only. Check out the step-by-step instructions in the article posted here.
Absinthe 2.0.1 Update and Bug Fixes
All those users who are facing issues with time-out errors and system lockdowns, should try our step-by-step guide with latest bug fixes and new jailbreak update Absinthe 2.0.1, released by pod2g and his Dream Team. The complete steps and video tutorial is posted here.