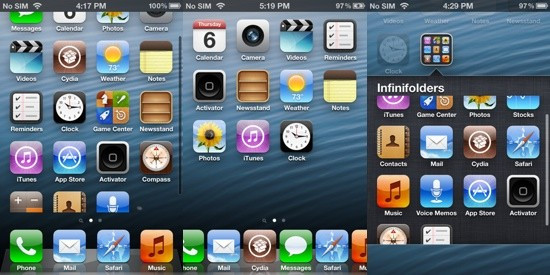 Chpwn's Infiniapps jailbreak tweak has been in the spotlight for quite some time, and now fans can rejoice over the release of its revamped version for iOS 6. Infiniapps, one of the most popular jailbreak tweaks, brings a plethora of exciting features such as Infinidock, Infinifolders and Infiniboard.
Infinidock allows users to add more icons to the iOS dock, while Infinifolders offers a similar ability with folder management. Besides, Infiniboard introduces vertical scrolling capability to your Springboard. The improved version of Infiniapps has reportedly been recreated from the base to eliminate age-old bugs, besides enhancing the stability and performance of all jailbreak tweaks in iOS 6.
Here are excerpts from Chpwn's recent blog post:
"Today I'm releasing new versions of all of the Infiniapps, rebuilt from the ground up for iOS 5 and iOS 6. But while the core is brand new, all of your favorite features, settings, and purchases are still there, and everything should seamlessly carry over into the new versions. I also added a few new features - scrollbars and bouncing settings are now an option in Infinidock, for example - and new features should be much easier to add in the future.
"Another big focus was fixing a number of longstanding bugs, for both stability and performance. Also gone is a little secret I'll let you in on: until now, the Infiniapps were never really unlimited. There's always been a hidden cap (for performance reasons), somewhere between 50 and 200 icons. With the new architecture, though, performance is barely affected by the number of icons, and I've made it truly unlimited."
Chpwn's Infiniapps tweak is based on the same code that the app maker had used for Infinidock earlier in Jan. 2010. As idownloadblog notes, the app design and coding seem to be fast-outdated and hence the iOS developer and hacker, Chpwn, reportedly decided to recreate the whole app interface.
Although an untethered jailbreak for iOS 6 is still elusive, those who are running a tethered jailbreak device on iOS 6 can go ahead and install the new Infiniapps 2.0 from Cydia. Besides, the updated version of the tweak features enhanced Voice Activator and Zephyr for iOS 6, while the Gridlock update is still in the making.