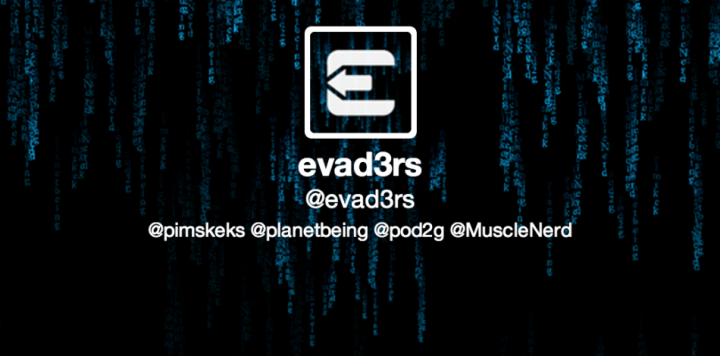 Amid the recent hype surrounding the release of iOS 6 untethered jailbreak and the rapid progress achieved by the Dream Team, pod2g made a surprising announcement about forming of a new core team of hackers known as the 'evad3rs'. Apparently, the veteran hacker will team up with three other renowned iOS hackers - MuscleNerd of iPhone-Dev Team, pimskeks from Chronic-Dev Team and planetbeing, who has made a head-start on the latest jailbreak.
Just a couple of days back, pod2g dared Apple to release the public version of iOS 6.1 in a Twitter message, while addressing the Dream Team (planetbeing, pimskeks and MuscleNerd) and his followers. Now, in another surprising announcement, pod2g had this to say in the recent Twitter update: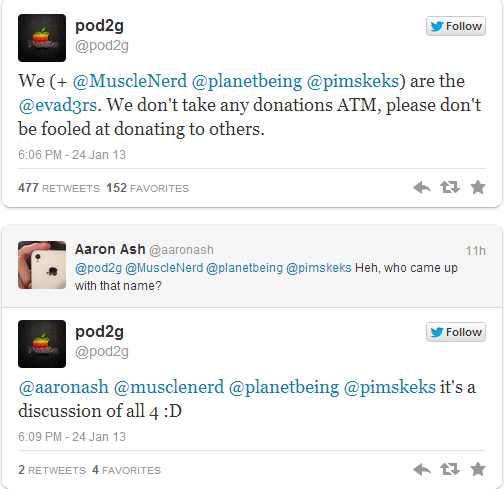 "We (+ @MuscleNerd @planetbeing @pimskeks) are the @evad3rs. We don't take any donations ATM, please don't be fooled at donating to others."
As iDownloadBlog notes, although it is still unclear about the motive behind forming of new Dream Team called the 'evad3rs', they would certainly be working together to unleash the public release of iOS 6.1 untethered jailbreak.
At the moment, there has not been a single tweet from the newly launched evad3rs account. However, pod2g's message clearly signals caution to all jailbreak followers to beware of impostors, who seek donations in the name of unleashing the much-awaited iOS 6 jailbreak.
In the last few days, the Dream Team duo (planetbeing and pod2g) have made significant progress on the jailbreak front by unearthing two new vulnerabilities in iOS 6 that could pave the way for an untethered jailbreak. Considering pod2g's invitation for Apple to launch the public release of iOS 6.1, it seems the hackers may already have the executable hack code to develop the public version of the untethered jailbreak.
In related news, pod2g has shed some light on their plans to discuss more about the future of jailbreaking at the Hack in the Box security conference to be held in Amsterdam during 8 to 12 April. Apparently, it should be no surprise if the Dream Team talks about the exploits they have unearthed to jailbreak iOS 6.x.x.
With Apple's iOS 6.1 poised for a public release in the next few days (since iOS 6.1 beta 4 expires on 28 January), either a beta 5 or the golden master (final version before public release) is definitely on the cards by end of January. In other words, the untethered jailbreak for iOS 6.1 seems closer than expected, as pod2g hints that the highly-anticipated jailbreak will follow soon after Apple's iOS 6.1 public release.