Geekbench 3 results show the iPad Air is twice as fast as the previous Apple tablet thanks to the new A7 64-bit chip.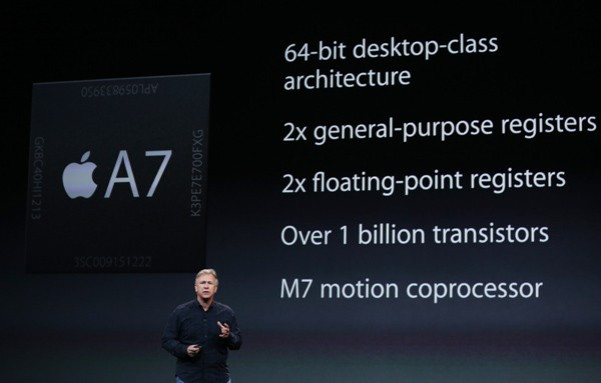 Apple claimed that its newly slimmer and lighter iPad would outperform the iPad by a factor of two when it revealed the new tablet last week. New benchmark scores released by Primate Labs seem to back up this assertion.
Using the Geekbench Browser, Primate Labs has gathered together results for Geekbench 3 - a cross platform processor benchmark tool - showing the iPad Air's A7 chip performed twice as fast as the A6X chip found inside the iPad 4.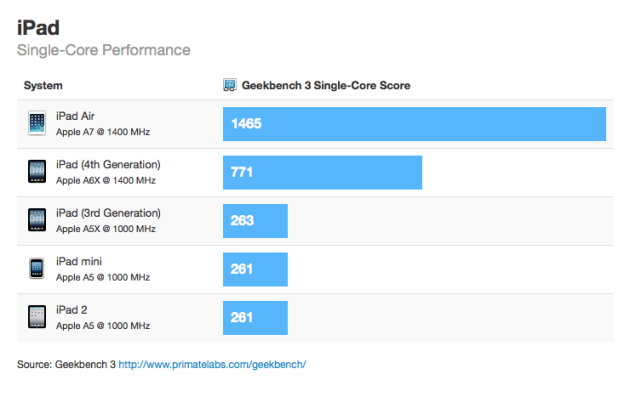 The iPad 4 itself had doubled the speed of the then only six-month-old third-generation iPad meaning the performance of Apple's iPad range has increased over 500% in just 19 months.
The benchmark scores also show that although the iPad Air is using the same A7 chip as the iPhone 5s, it is running at a higher clock speed of 1.4GHz compared to 1.3GHz on Apple's smartphone. John Poole at Primate Labs speculates that this because of the iPad's larger battery providing more power or the larger chassis providing more cooling space - or a combination of both factors.
Poole adds: "From a performance standpoint the iPad Air is a great upgrade to the iPad (4th Generation). With most recent Mac updates showing only modest performance improvements, it's exciting to see iOS devices do the opposite with substantial improvements between generations. I wonder how much longer Apple can keep this up?"
Apple's iPad Air goes on sale globally on Friday, 1 November costing £399 for the 16GB model
Read more: iPad Air - What the reviews said