The iPhone 5 will only have 4G mobile internet through the EE network, with Vodafone and O2 missing out until mid-2013 at the earliest.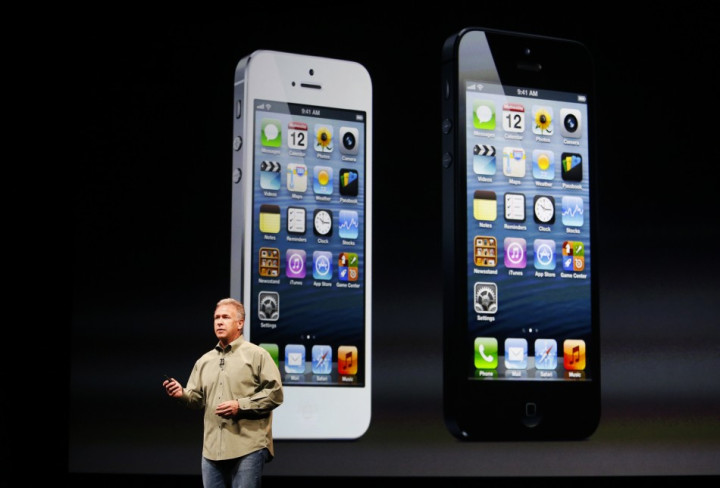 Customers will still be able to use the new iPhone on any 3G network they want - O2, Vodafone, Three, EE - but one of its major selling points, 4G mobile broadband access, will only be available from EE.
To understand why EE - formerly known as Everything Everywhere and the owner of the T-Mobile and Orange brands - will have exclusive rights to providing the iPhone 5 with 4G, we have to look not at Apple, but at the state of 4G in this country as a whole.
The telecom regulator Ofcom is starting an auction process at the end of this year to distribute the two bands of 4G that it will make available in the UK. These bands are 800MHz and 2600MHz.
Vodafone and O2 are not expected to have their 4G networks up and running until around the end of 2013, when EE - which launched its own 4G service this week, a day before the iPhone 5 was announced - will have been providing its own service for an entire year.
How can EE do this?
EE has spare 1800Mhz specturm which it uses for its 3G network, so the network has modified - or re-farmed - this to provide a 4G service months, if not an entire year, ahead of the competition.
Vodafone and O2 are furious about this and at Ofcom for allowing it to go ahead, with Vodafone saying that it was "frankly shocked" at a decision it described as "careless" and "bizarre."
"The regulator has shown a careless disregard for the best interests of consumers, businesses and the wider economy through its refusal to properly regard the competitive distortion created by allowing one operator to run services before the ground has been laid for a fully competitive 4G market," Vodafone told IBTimes UK in late August.
Since then Ofcom has allowed EE to continue developing and marketing its 4G network, which will provide 4G to 16 cities across the UK before Christmas. The network will be offering the Nokia Lumia 920 and 820 exclusively, along with a 4G version of the Samsung Galaxy S3 and, of course, the iPhone 5.
Even if Vodafone and O2 get their 4G networks up-and-running faster than expected, unfortunately for them the iPhone 5 will still only work on EE's 4G network in the UK and no other. Here's why:
The version of the iPhone 5 launching in the UK (Model A1429) features an LTE chip that supports three LTE bands: 1800MHz, 2100MHz and 850MHz. It doesn't support either of the bands which Ofcom will be auctioning off next year - namely 800MHz and 2600MHz.
Indeed none of the three iPhone 5 models being launched supports these frequencies.
Readers hoping to buy an iPhone 5 on Vodafone or O2 and use it with their 4G networks next year will be left disappointed and stuck with the current 3G service.
The only solution could be for Apple to offer an updated iPhone 5 in early 2013, compatible with more bands, but this is highly unlikely. What is more probable is Vodafone and O2 customers looking to stay with their networks and use 4G will have to wait until this time next year for the launch of the iPhone 5S or iPhone 6.
And a note to those wishing to buy an iPhone 5 on EE - EE's network won't actually be up and running when the iPhone goes on sale on 21 September, so you must buy it on either T-Mobile or Orange, both of which will then give their customers the option of moving to parent company - and sole 4G provider - EE.
What about Three?
Three customers who buy an iPhone 5 now will get 4G towards the second half of next year, thanks to a move that saw the Three network strike a deal to let it use some of EE's 1800MHz band, meaning that its customers will likely enjoy 4G ahead of either Vodafone or O2 customers.
But hasn't my iPhone already got 4G?
Perhaps a strange question, but research sent to IBTimes UK by Analysys Mason, a specialist in telecoms, IT and media, reveals that 46 percent of iPhone 4 users questioned believe they already have 4G.
Analysys Mason asks: "The question is how do you convince those customers to buy an LTE contract?"
Staggering perhaps, but it just goes to show how confusing all this technical terminology can be.
UPDATE:
O2 is scrambling to speed up the roll out of its 4G services and has told the BBC that it is "in discussions" to get its 4G network online more quickly.
"We are pushing hard on behalf of our customers, " the O2 spokesperson said. "We are hopeful we can come to some agreement to bring the current time line forward."
O2 - as well as Vodafone - will be keen for Ofcom to speed up the 4G roll out process after it was effectivel;y revealed this week that the iPhone 5's 4G capabilities will be exclusive to rival EE.