Apple's iPhone 5 witnessed record-breaking sales exceeding five million handsets within the first week of its launch. The famed next-gen iPhone has come under scrutiny for some issues such as Wi-Fi and Apple Map. Most software issues could be fixed with an impending firmware update from Apple.
A round-up of some of the issues:
Display Problems
iPhone 5 has been crafted to be 18 percent slimmer than iPhone 4S, despite the latter measuring just 9.3mm in thickness. This is possible thanks to the in-cell display technology used by Apple in iPhone 5. The new technology integrates touch sensors into the LCD, which removes the need for a separate touch screen layer.
The absence of a dedicated touch screen layer helps in reducing the screen thickness. It is also intended to enhance the quality of displayed images, besides boosting the display colour clarity with 44 percent better colour saturation than earlier. The iPhone 5 teardown reveals enhanced repairability of the device, thanks to the new display technology.
Despite the advantages of the new display technology, some users have reportedly indicated display problems with bubbling or ghosting effect when the screen is touched. The video embedded below depicts the display issues:
"Just opened my new iPhone 5 and the screen is ghosting, or similar to when you touch an LCD screen. Just curious if anyone else is having this problem. It's definitely apparent when I touch hard, but even soft touches still have the screen problem when I touch," writes one member of MacRumours forum, while discussing the issue with fellow members.
Another forum member reports an identical issue with his new iPhone 5 (shown in the video below):
A third forum member reveals that his iPhone 5 screen keeps flashing (shown in the video below):
The display issue so far seems to be isolated, as it has not been confirmed by Apple officially.
Faulty Wi-Fi Connections
Some users have reportedly complained of issues with secured Wi-Fi connections, with connections either being denied or naggingly slow. There have been user reports that their Wi-Fi actually quit working after trying to connect to a faulty Apple page soon after updating to the latest version of iOS - iOS 6.
The good news is that the Wi-Fi issue has been sorted out. According to iPhone 5 Issues, iOS developer Steve Streza points out that iOS devices are designed to ping a test URL upon connecting to a Wi-Fi network to verify if it is protected by a captive portal.
Check out the iPhone 5 Wi-Fi problems demonstrated in the YouTube video below:
The complete error description and workaround released by Errata Security is as follows:
"When an Apple iOS device (iPhone, iPad, iPod) connects to a WiFi network, the first thing it does is make a request to the URL http://www.apple.com/library/test/success.html.
"The purpose of this request is to discover if there is a "captive portal" in the way. A captive portal is when, after connecting to the WiFi, any web request you makes gets redirected to a login/ToS page. In order to continue, you must either login with a username/password (or sign up, then login), and/or access the Terms of Service."
Fix for Wi-Fi Issues
If the above workaround failed to correct the Wi-Fi problem, then you could try the following fix on your new iPhone [Courtesy: iPhone 5 Issues]
Toggle your Wi-Fi off and on by navigating to Settings app > Select Wi-Fi OR
Set your device's HTTP Proxy to Auto. To do so, go to Settings app > Select Wi-Fi > tap the blue icon next to the network you are connecting to and scroll to the bottom.
One of these two methods should fix your iOS 6 Wi-Fi problem.
Buggy iOS 6 Maps Service
Apple iPhone Maps that replaced the stock Google Maps app have reportedly been buggy with critical location glitches marring the user experience. As the Guardian notes, just a few minutes after the iOS 6 launch, iPhone 5 users who updated the new software reported that London had been relocated to Ontario on the maps, while Paddington station disappeared and the Sears Tower in Chicago had allegedly shrunk. The most bizarre of the lot is that Helsinki railway station was replaced with a park on the maps.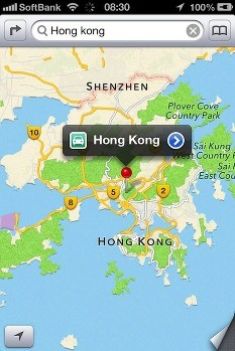 Some of the widely noticed issues include broken search links with "No Results found" bug and missing details of the location. Adding to the long list of errors is inaccurate listing of Airport locations, which makes navigation more tedious. Among other glitches, Hong Kong seems to be grossly misplaced in the wilderness of Kowloon's Kam Shan Country Park and nowhere to be seen on Hong Kong Island. Besides, missing public transportation stations, inaccurate and incomprehensible details add to the woes of iOS 6 Maps. As a sole saving grace, the Maps seem to be seamless and accurate in projecting the exact Apple Store locations.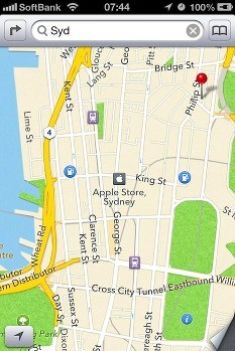 Damage Issues Out of the Box
Apple iPhone 5 black models seem to be reportedly afflicted with damage issues including scuff marks, scratches and defaced paint marks throughout the contours of the phone. As Christian Post notes, one affected iPhone user stated the out-of-the-box damage issue in an e-mail to the company's Senior Vice President of Worldwide Marketing, Phil Schiller. The user reportedly enquired about Apple's plans to fix the issue.
"Any aluminum product may scratch or chip with use, exposing its natural silver color," replied Schiller in an e-mail to the customer. "That is normal."
There have been several reports of dents and scratches afflicting the black model, which is not the case with the white and silver models of the iPhone 5. It is believed this could be because of the popularity of the black model.
Light Leak Issue Afflicts the White iPhone 5
If you are the proud owner of the white iPhone 5, light leak could be one of your concerns. One MacRumours forum member has reportedly cited that some white iPhone 5 devices reveal a slight light leakage between the unit's glass display and the chamfered aluminum antenna.
Meanwhile, BGR reports the confirmation of a similar issue with one of their white iPhone 5 units.
"There is indeed a small crack on some new iPhone 5 units located just below the power button. [..]
"[..] The light leak and loosening chamfer on BGR's defective iPhone 5 was a 64GB white and silver model running on AT&T. The light leak is unnoticeable except when the iPhone 5 is used under low-light or completely dark situations," reads the BGR report.
Check out a couple of pictures of iPhone 5 revealing leaked light below: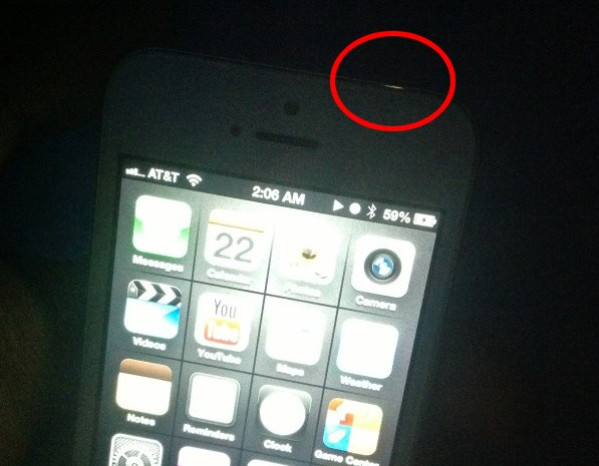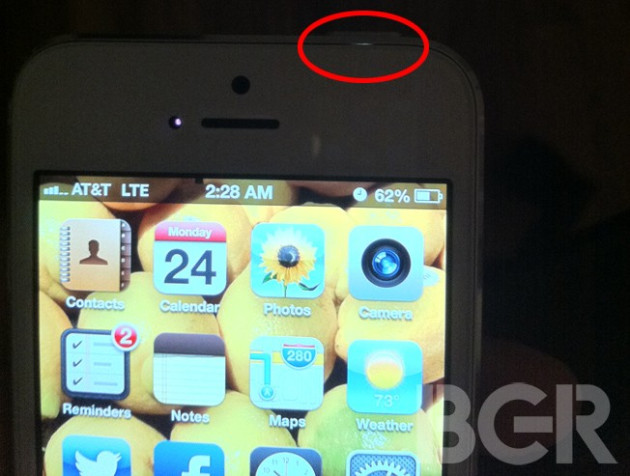 iPhone 5 Battery Issues
As with every new iPhone and iOS software update, iPhone 5 and iOS 6 seem to be stricken with battery issues. As The Verge notes, the iPhone 5 seems to be afflicted with battery drain and unexpected software crashes.
Here is the complete list of issues stated by The Verge:
Siri crashing when told to launch an App.
Some force quits.
Battery problems:
Shut down location services. /
Most notifications. /
No backgrounded VoIP Apps running. /
Drain battery to zero and done full cycle charge. /
Battery Drain Fix
Meanwhile, one of The Verge readers has suggested a workaround to overcome the unexpected battery drain problem, which is given below:
"I'm running on a restore from my 4 without any issues. I would make a fresh iCloud backup, wipe the phone, and set it up as a new phone for a 24 hour period to see if the issues continue. I haven't had any crashes and my battery life is much improved (even on LTE with heavy use.) If it continues I would assume there is a hardware issue and get to a store to have it swapped out."