The latest beta of Apple's iOS 7 iPhone software includes mentions of a fingerprint scanner integrated into the Home button of a future device.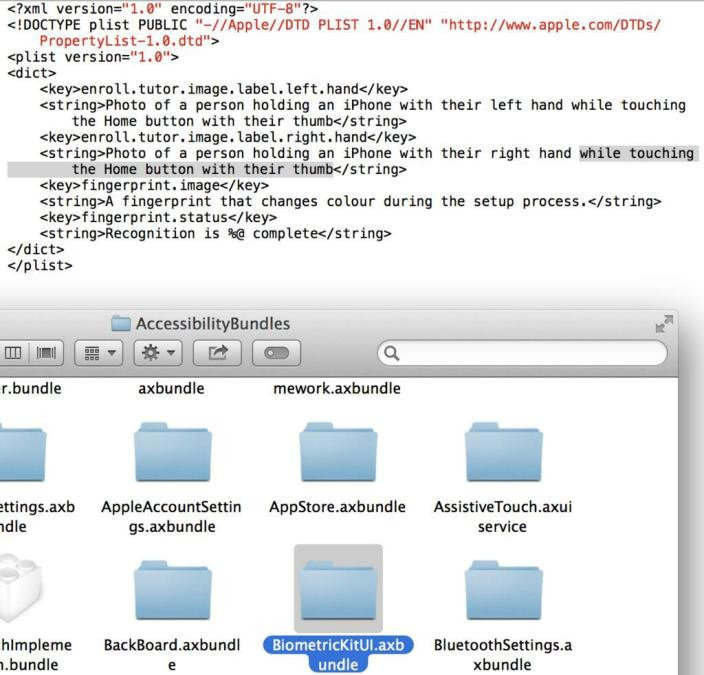 Ever since Apple acquired biometrics company AuthenTec for $365m (£240m) last year, speculation of a future iPhone featuring fingerprint recognition has grown, and now a folder marked 'BiometricKitUI' is the closest we've come to seeing evidence of the new feature.
Spotted by iOS developer Hamza Sood, the folder is stored in a section of iOS 7 beta 4 used by the iPhone's accessibility features, which include user-defined changes to help those with poor hearing, eyesight or motor skills.
The folder contains text describing an interface for fingerprint recognition, including the phrases "left.hand_fingerprint.image", "a fingerprint that changes colour during the setup process," and "recognition is % complete."
Speaking to 9to5Mac, Sood explains that these phrases are what an iPhone with VoiceOver activated to help a user with poor eyesight would say to help describe the layout of the interface.
User interface complete
The website claims Apple has completed the user interface for fingerprint scanning, and that the technology will be used to unlock the phone, citing a source "familiar with the development of the new iPhone".
Thought to be called the iPhone 5S, the new model is expected to be announced by Apple in the autumn and go on sale before the end of the year, as has been the case for the last two generations of iPhone.
As iOS 7 is still in beta testing stage and only available to paying developers, Apple reserves the right to change or remove features from the new operating system before it is released to the general public in the autumn.
Budget iPhone
In an unprecedented move for the California company, Apple is also widely expected to announce a cheaper iPhone alongside the 5S.
Tipped to be called the iPhone 5C, a photograph allegedly showing the handset appeared in a report looking at working conditions at one of Apple's Chinese manufacturing plants; the phone is said to be made of plastic instead of aluminium and will be sold in a number of colours. Workers said the phone will be released later this year, but isn't yet in mass production.
Launching a budget iPhone could be a lucrative move for Apple, as data published earlier this week praised the heavily discounted iPhone 4 for boosting the company's smartphone marketshare in the UK, as it appeals to first-time buyers despite being more than three years old.
Must Read: