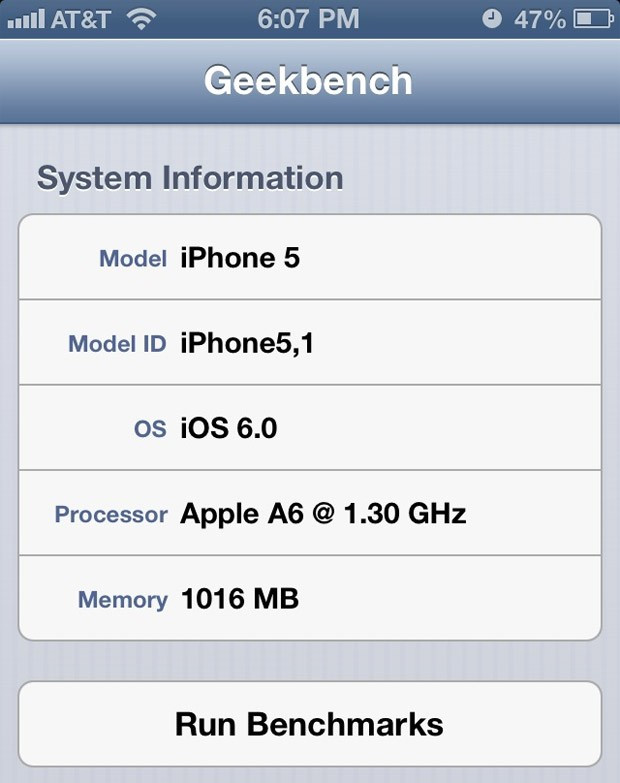 The iPhone 5's processor has been clocked at higher speed at 1.3GHz with a new Geekbench build version 2.3.6. According to the latest benchmark, the processor clocked at 1.3GHz is reported to be faster than the previous benchmark where the dual-core ARMv7 processor was clocked at 1.02GHz.
The Engadget reports, according to Primate Labs' employee John Poole, the new version of the app "features a dramatically improved processor frequency detection algorithm, which consistently reports the A6's frequency as 1.3GHz."
"Earlier versions of Geekbench had trouble determining the A6's frequency, which lead to people claiming the A6's frequency as 1.0GHz as it was the most common value Geekbench reported," Poole said, according to Engadget.
Geekbench offers a set of benchmarks as well as measures device's memory and processor performance.
In the previous benchmark, the iPhone 5 scored 1601. Redmond Pie notes the latest benchmark score of 1616 proves to be an improvement over the earlier score, which is two times faster than the iPhone 4S with a score of 630, faster than Nexus 7 scoring 1591, One X that scored 1085 and Galaxy S3 with a score of 1560.
The recent performance tests revealed that the iPhone 5's A6 processor outshone its rivals. In the BrowserMark test, the device gained the spot by scoring 191726, while the international variant of Galaxy S3 bagged the second position scoring 172237. In the SunSpider JavaScript test, once again the iPhone 5 made it to the top position, while it was then followed by Lava Xolo X900, LG Optimus G and Galaxy S3.
Apple's newest iPhone 5 sports a 4in IPS display with a resolution of 1136 x 640 pixels, an eight megapixel rear-facing camera, 4G LTE and a lightning connector. A 16GB SIM-free variant will cost £529. Within just 24 hours after the announcement, the iPhone 5 reportedly topped two million pre-orders. The tech giant said the demand for the new smartphone surpasses the initial supply, while the "majority of pre-orders will be delivered to customers on September 21."