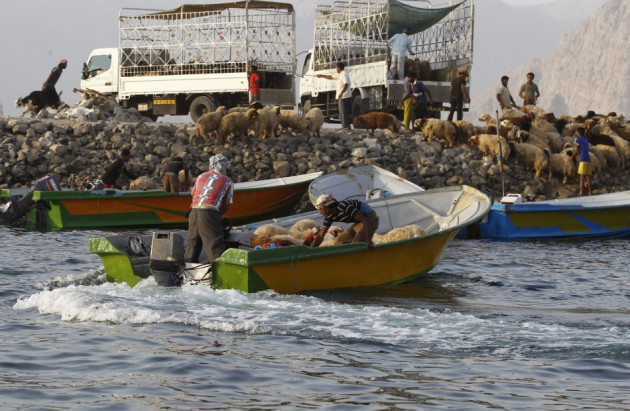 The European Union has toughened its existing programme of sanctions on Iran amid rising political and economic tensions in the Islamic state.
Foreign ministers meeting in Luxembourg outlined the new restrictions, aimed at Iran's banking and shipping sectors as well as other parts of its industrial economy. The sanctions form part of a global effort to dissuade Iran from continuing to pursue its controversial atomic energy programme, which the EU and its US allies fear is being used for weapons development and a charge Iran has consistently denied.
"Iran is still playing for time," German foreign minister Guido Westerwelle told reporters in Luxembourg. "We don't see a sufficient readiness for substantial talks about the nuclear programme."
The current round of restrictions essentially tightens the framework of an early raft of sanctions agreed in January and put into place in July. Along with the United States, the rules have effectively blocked the sale and shipment of Iranian crude oil - as well as other goods - in both dollars and euros.
"The restrictive measures agreed today are aimed at affecting Iran's nuclear programme and revenues of the Iranian regime used to fund the programme and are not aimed at the Iranian people," the Council of EU Foreign Affairs said a statement. "The Iranian regime itself can act responsibly and bring these sanctions to an end. As long as it does not do so, the Council remains determined to increase, in close coordination with international partners, pressure on Iran in the context of the dual track approach."
The block has had an enormous impact on Iran's economy, according to International Monetary Fund forecasts, turning last year's growth into a recession and causing the largest increase in the country's budget deficit in at least five years.
Iran is the world's third-largest oil producer, according to the US Energy Information Administration, with the fourth largest deposit of proven reserves on the planet.
The International Energy Agency said last week that Iran's crude shipments slumped to 860,000 barrels a day last month, down 7.7 percent from August. A Bloomberg news study suggested US-led sanctions could cost the regime as much as $48bn each year in oil revenues, an amount equal to about 10 percent of the economy. The EIA says oil underpins around half of government revenues.
Iran's currency, the rial, has borne the brunt of the international sanctions, falling some 75 percent in value against the US dollar in the past year. The Rial traded at an all-time low of 37,500 against the US dollar two weeks ago, extending a one-week decline that's loped off more than a third of the currency's value as US-led sanctions hit the $480bn billion economy.
Last Friday, Finance Minister Shamseddin Hosseini told reports at the IMF and World Bank meetings in Tokyo that his government was preparing steps to curb rial speculation. Iran's Industry Minister, Mehdi Ghazanfari, warned the state news agency that security forces would "root out" speculators behind the rial's decline.
Iran's alleged nuclear weapons programme has escalated tensions in and around Gulf region as President Mahmoud Ahmadinejad's second term at the head of government comes to a conclusion.
President Barak Obama told the United Nations General Assembly last month that the US would "do what we must to prevent Iran from obtaining a nuclear weapon" while Israel has long maintained that Tehran is close to developing such a weapon, citing the developments in its uranium enrichment programme, and has called for "red lines" to be imposed by the international community.
US lawmakers inked an expanded package of sanctions in August under the Iran Threat Reduction and Human Rights Act that also deepened restrictions on Iran's crude exports. However, data released from the US Census Bureau last week showed US exports to Iran has risen by 32 percent in the first eight months of this year, to $199.5m, thanks largely to a huge increase in wheat and grain sales.
The steep decline in medicinal and pharmaceutical sales, however, has moved some to challenge the humanitarian aspects of US policy.
"The Administration's sanctions against Iran have created a de-facto humanitarian banking blockade," said Kate Gould, legislative associate for Middle East policy at the Friends Committee on National Legislation told Reuters. "The U.S. Treasury Department's licenses for life-saving cancer treatment would be of no value to an Iranian patient who cannot access the licensed medication due to U.S. sanctions against financial institutions."
Economic embargoes first began in 1979 after students infamously stormed the US Embassy in Tehran at the peak of the Islamic Revolution. Extensions were added under Bill Clinton Administration in 1995 and again under George W. Bush in 2007 and given even greater depth last year when President Obama signed into law a bill that would freeze the US assets of financial firms anywhere in the world that were found to be dealing with Iran's central bank.
Iranian officials have steadfastly insisted the programme is for domestic energy use.
Global sanctions on Iranian oil as a result of the programme have been in place since 1 July, banning the sale, transport and financing of all crude products. The European Union approved its own ban on Iranian crude imports -as well as the insurance of shipping Iranian oil - in late January.