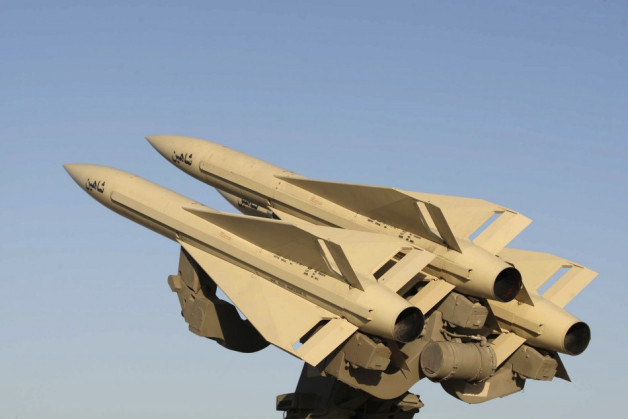 Iran is preparing to test-fire its latest surface-to-air missile, known as Ra'd (Thunder), during naval war games in the strategic Strait of Hormuz.
Sanctions-hit Iran is flexing its muscles in the troubled waters to the north of the Indian Ocean with a six-day drill, codenamed The Great Naval Wargames of Velayat 91.
During the exercise, Iran is planning to test its new Ra'd missile, Rear Admiral Amir Rastergari told the Fars News Agency. The missile is said to be capable of securing Iran's maritime border as it has the capability to take down medium-range aerial targets. The missile was first seen at a ceremony in September.
In its last ten-day naval drill, in December 2011, Iran successfully fired a similar mid-range missile called Mehrab.
The war games will take place over a million square kilometres from the Strait of Hormuz to the northern Indian Ocean.
Iran will showcase its defence systems and combat fleets, including submarines, during the exercise. The country's warships, torpedoes and destroyers will also take part in the drill. Domestically developed hovercraft and drones will also be on display.
On the first day of the drill, Iran's Jamaran destroyer closely scanned mock enemy targets and successfully sent reports to the command centre. Iran, which has come under severe cyber attack in recent months, will also use the opportunity to test its recently developed cyber warfare weapons, suggest local reports.
"We will definitely respect the maritime border of our neighbours and conduct the manoeuvres based on international law. Iran aims to demonstrate its defensive naval capabilities by conducting this exercise and send a message of peace and friendship to regional countries," Tehran's naval chief Admiral Habibollah Sayari told the state-run ISNA.
The Iranian navy, with around 17,000 personnel, has often threatened to close down the narrow Strait of Hormuz, a vital route for the world's oil traffic.
Iran has also condemned the presence of foreign troops, especially those of the US, which are stationed in the Gulf to prevent Iran from blocking the waterway.