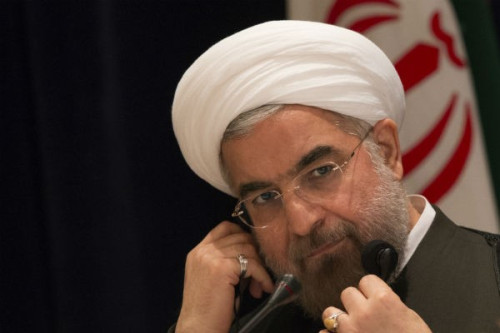 A Twitter account belonging to Iranian president Hassan Rouhani has deleted a tweet claiming that world powers "surrendered to Iranian nation's will" after it secured an interim deal to relax economic sanctions against the so-called rogue nation.
The tweet, posted on Tuesday, was a reference to a deal agreed in Geneva to freeze key parts of the country's nuclear development program. It read: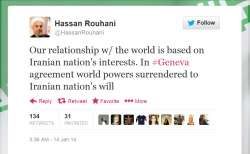 Rouhani made a similar claim in Iran's Khuzestan province, in the southwestern of the country.
"Geneva deal means the surrender of big powers before the great nation of Iran," he said.
White House spokesman Jay Carney played down Tehran's claims, saying that Rouhani was addressing his "domestic audience".
"It is not surprising to us and nor should it be surprising to you that the Iranians are describing the agreement in a certain way towards their domestic audience," Carney said. "It does not matter what they say, it matters what they do."
Under the Geneva agreement, Iran agreed to freeze or reverse progress at all of its major nuclear facilities. It has also halted the installation of new centrifuges used to enrich uranium and caps the amount and type of enriched uranium that it is allowed to produce.
Last week, five permanent members of the UN security council plus Germany and Iran agreed to start implementing the terms of the deal later this month.
Iran is also to open its nuclear program to daily inspection by international experts from January 20.
It is not the first time that Rouhani's Twitter account has exercised some self-censorship.
In September, a tweet that broke the news of a historic phone call between the Iranian president and Barack Obama was deleted and replaced.
The original post had a friendlier tone and said Rouhani had concluded the phone call by telling Obama to "have a nice day!". Obama thanked him in Persian with "Khodahafez" which means "God go with you".
The replacement tweet had a more diplomatic and neutral tone and read: