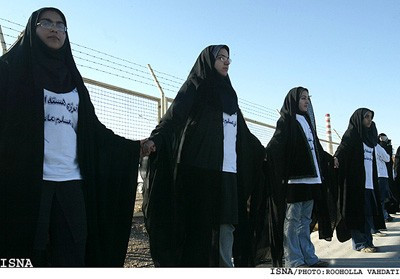 Students demonstrating against the possibility of an Israeli attack on Iranian nuclear sites have formed a human shield around the uranium enrichment plant near Isfahan, reports Israeli newspaper Haaretz.
Hundreds of Iranian students have formed a human chain around a nuclear plant, chanting "Death to Israel" and "Death to America" in a show of solidarity for their country's nuclear enrichment programme.
The students from universities in Isfahan, central Iran, held a noon prayer service in front of the plant's main gate, before staging their protest.
A similar event took place in January 2006, when Iranians gathered around the Isfahan plant to protests against another Israeli threat to attack Iran's nulear sites.
Iran came under fire from the international community last week following a report by the International Atomic Energy Agency (IAEA) suggesting it was using its nuclear technology to seek atomic warheads. The report prompted Israel to threaten an attack on Iranian nuclear sites.
Tehran dismissed the findings of the IAEA report as politically motivated. Ali Akbar Salehi, Iran's foreign minister said that "the West and the United States are exerting pressure on Iran without serious arguments and proof."
Israel has previously attempted to thwart Iran's nuclear programme in covert operations led by the Mossad, the Jewish state's intelligence services. Last year several senior Israeli scientists involved in the country's nuclear enrichment were killed in covert Mossad operations.
It is thought that Israel might also be behind an explosion at an Iranian military base in Tehran on Saturday. The blast killed 17 members of the Revolutionary Guards, including Brigade General Hassan Moghaddam, a key figure in Iran's missile programme.