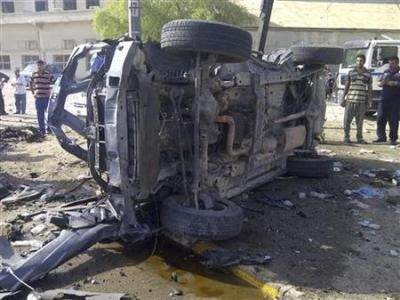 Militants believed to be working with al-Qaida have downed an Iraqi army helicopter and killed a further 11 Iraqi soldiers in overnight clashes following a wave of explosions that killed 115 people in the country's bloodiest day of the year so far.
The militants have pledged to push back into areas it was forced out of by the US military north of Diyala province.
Militants attacked the Iraqi army helicopter, killing one soldier, wounding another and forcing it to make emergency landing, according to provincial spokesman Salih Ebressim Khalil. The rest of the crew was unharmed.
Clashes at a security checkpoint in a rural area north of Baghdad left 11 federal policemen dead.
Diyala is a predominantly Sunni province with a large Shiite minority located between Baghdad and the Iranian border. It has long been a battleground for Sunni insurgents trying to take control.
After the bloodshed that hit Baghdad and north Iraq, the al-Qaida leader, Abu Bakr al-Baghdadi, announced a new campaign called "Breaking the Walls".
The purpose, he said, was to undermine the nation's Shiite-led government by realigning with Sunni tribes.
Al-Qaida's local wing in Iraq is known as the Islamic State of Iraq.
Experts at the British thinktank The Henry Jackson Society believe that the Iraqi branch "could lead to greater concerns for UK national security".
According to society researcher Robin Simcox, Western powers may be reluctant to face the real threat of al-Qaida because of public repercussions over the Iraq War.
"The Islamic State of Iraq is an extremely competent, organised and potent franchise," he said. "Yet now that we have withdrawn our troops from Iraq there seems to be a degree of complacency in Washington and London about the threat of al-Qaeda there.
"This is remarkably short-sighted and naïve, and has the potential to gravely impact our own national security."