At least 26 Kurdish security forces were killed in a triple suicide bomb attack in Iraq, which tore through a Kurdish compound northeast of Baghdad on Sunday.
An official from the Kurdish Asayish security forces said the first bomber detonated an explosives vest at the gateway to a security compound in Qara Tappah, in the ethnically diverse Diyala province, the Associated Press reports.
Minutes later, two suicide bombers drove cars filled with explosives into the compound, injuring at least 60 people.
A roadside bomb also killed the police chief of the western Anbar province, Brigadier-General Ahmed al-Dulaimi, who was attacked while travelling through an area recently cleared by Iraqi security forces in a convoy north of the provincial capital Ramadi, according to Anbar councilman Faleh al-Issawi.
Iraq's interior ministry paid tribute to al-Dulaimi as a "hero who set a good example for self-sacrifice". Officials also praised the police chief's role in reorganising the provincial police force.
No-one has yet claimed responsibility for the attacks, which are a major blow to the Iraqi security forces' capacity to combat the jihadist militant group Islamic State (Isis).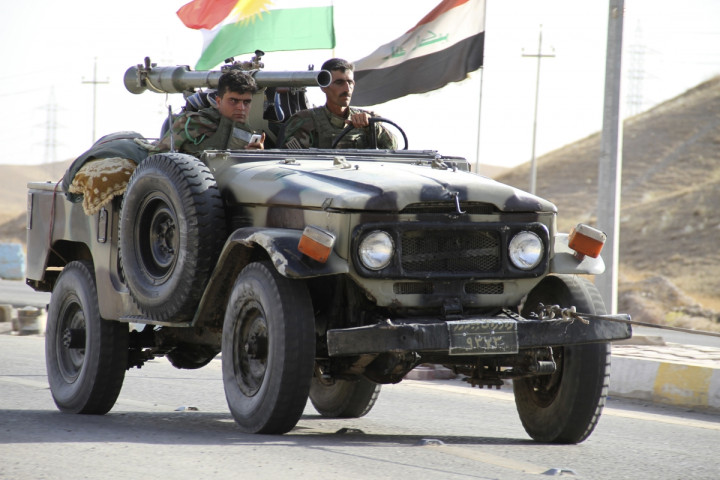 The Shi'ite-led government and majority-Shi'ite neighbourhoods have frequently been targeted by Sunni insurgents. Islamists militants have also seized towns in the restive Diyala province, and have clashed with Kurdish forces.
Isis and allied Sunni militants seized the Anbar city of Fallujah, large rural areas of Anbar province, and parts of Ramadi earlier this year. Isis also captured Iraq's second city Mosul and large parts of the north.
American troops were engaged in some of the heaviest fighting in Fallujah during the heavy US presence in Iraq.
Earlier this week, the Iraqi military launched a major offensive against militants in Fallujah, aimed at breaking Isis's siege of 400 Iraqi soldiers, who were surrounded by militants in the Saqlawiyah district.
The latest attacks followed a day of bloody clashes in Iraq's capital Baghdad, where a series of car bomb attacks killed at least 45 people in Shi'ite-majority areas.