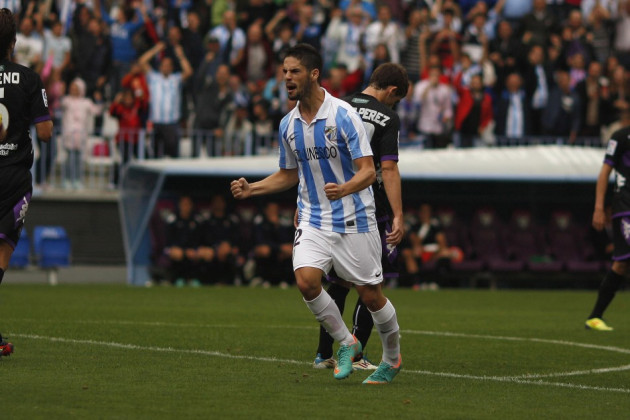 It seems Spain's conveyor belt of world class midfielders has produced another dazzling gem that is catching the eye of numerous managers in England.
Malaga youngster Isco has been linked with a number of Premier League clubs in recent months and could soon join the burgeoning number of Spanish midfielders making the game look remarkably simple.
Malaga have already lost one midfield magician to an English club when Cazorla moved to Arsenal in the summer, and now they have attempting to agree a new contract with Isco so they can place a £30million clause in his contract.
However, Isco would currently be available for the bargain price of £17million which would make him a genuine target for the majority of top Premier League sides.
Reports today have suggested that newly appointed director of football Txiki Begiristain has recommended the 20-year-old to Manchester City boss Roberto Mancini, while city rivals Manchester United have also been linked with the midfielder this season.
In fact Isco has been described as the 'new Paul Scholes' and was heavily linked with Manchester United during the summer transfer window when Malaga were forced to sell players because of financial difficulties.
In fact it is not just Scholes that the young midfielder has drawn comparisons to. When linked with Arsenal he was the 'new Cesc Fabregas', while rumours he was could join Liverpool led to him being dubbed a 'Steven Gerrard successor'.
What is clear is that Isco has numerous admirers in the Premier League after starring in a Malaga side which has won all three Champions League games this season without conceding a single goal.
They sit third in La Liga, one point ahead of Real Madrid, with Isco playing a crucial role in the superb start to a campaign in which many felt they would struggle after their ultra-rich owner left the club with huge debts.
Francisco Román Alarcón Suárez, to give him his full title, has been one of their outstanding players, a fact that has not gone unnoticed by Spain manager Vicente del Bosque who said he was pushing for a call-up to the full side after excelling at Under-21 level.
The question remains though; which English club is most likely to land the young midfielder?
Liverpool have repeatedly been linked with Isco and have previously profited from having a Spanish playmaker, when Xabi Alonso helped the side win the Champions League and push for league titles.
However, Liverpool are certainly not short of options in the centre of midfield and may not be able to convince Isco to leave a club in the Champions League for one struggling in the wrong half of the table.
Manchester City have the money to convince Malaga to sell and may be able to sway Isco to join his former Valencia team-mate David Silva at the Etihad, while Arsenal would hope Cazorla could tempt his former team-mate to make the move to north London.
However, even the £17million asking price may act as a deterrent for a club that has rarely spent more than £15m on a player and prides itself on not breaking their wage structure.
Manchester United have looked short in central midfield this season and are crying out for a player to eventually step into the void that will be left when Scholes retires. Isco's style is perhaps different as he enjoys running with the ball at his feet, but his eye for goal and ability to strike the ball does draw comparisons with the former England international.
Tottenham are the final side that have been consistently linked with Isco over the last few months. Playing with just a lone forward in Jermain Defoe they rely heavily on goals from midfield and last season could call upon Rafael van der Vaart.
This year they have signed Clint Dempsey and Gylfi Sigurdsson, however, there could well be room for Isco in the Tottenham midfield as neither signing has made the role his own.
Should Tottenham remain in the top four then they may have a genuine chance of persuading Isco to leave Spain and they would almost certainly be able to meet his release clause.
There could well be a battle between these clubs and it seems almost inevitable that Isco will join the mounting number of Spanish players lighting up the Premier League.