Iraqi forces have been carrying out intense ground and air attacks on the outskirts of the Islamic State-held city of Fallujah. Thousands of troops – along with elite combat troops and Iran-backed Shia militia – closed in on the city overnight and are reported to be preparing an offensive to retake it from IS (Daesh).
The BBC says the town of Karma, which lies north east of Fallujah, fell into Iraqi control after heavy fighting on 28 May, clearing the way for a siege on the city itself.
The Iraqi army advance comes days after the US confirmed that the jihadist group's most senior commander in Fallujah had been killed by an air strike.
Up to 50,000 civilians are reported to be trapped in the city, prevented from escaping by IS fighters.
Iraqi forces evacuated some 460 people – mostly women and children – from the outskirts of Fallujah on 27 May, a senior police officer told the AFP news agency.
Hostage situation
Fallujah, which lies 65km (40 miles) west of Baghdad, is one of two major Iraqi cities still in IS control. The other is Mosul in north of the country.
The Iraqi army – backed by coalition air strikes – began a large scale offensive to recapture Fallujah on 22 May.
Abdelwahab al-Saadi, the top Iraqi commander leading the offensive, said counter-terrorism forces, police and tribal fighters had reached army camps south and east of Fallujah, signalling that an assault on the city may be imminent.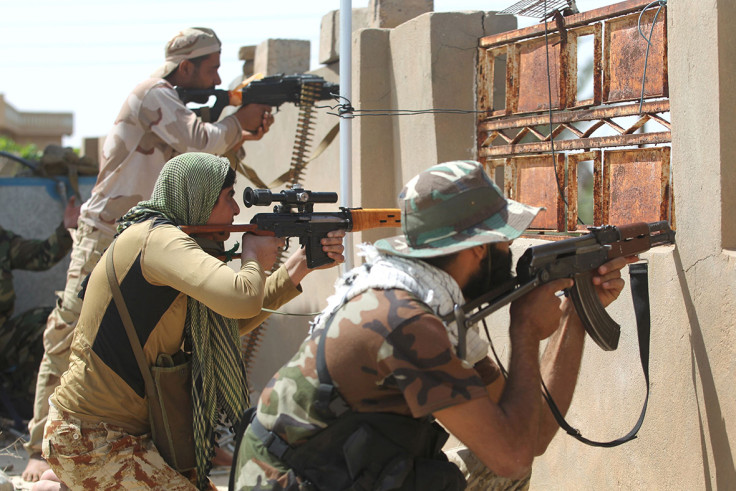 "These forces will break into Fallujah in the next few hours to liberate it from Daesh," he was quoted as saying by AFP.
The UN refugee agency says it has received reports of numerous executions of men and older boys in the city who refused to fight for IS, while others are reported to have been killed for attempting to flee.
Those who have managed to escape from IS's clutches and reach camps outside the city are reported to be severely malnourished.
"We are receiving hundreds of displaced Iraqis from the outskirts of Fallujah who are totally exhausted, afraid and hungry," Nasr Muflahi, Iraq director for the Norwegian Refugee Council, was reported as saying.
"Thousands more remain trapped in the centre of Fallujah, cut off from aid and any form of protection."