The Indian Super League (ISL) that premiered last year grabbed immense attention of the football fraternity in Europe. Since its launch in October 2013, ISL authorities had announced that the bidding process for the eight franchises would be completed by the end of that year.
Ever since, leading industrialists, celebrities and sports personalities were eager to venture into the league and invest in clubs. This gave shape to eight teams, one of them being Atletico de Kolkata.
The team has investments from former Indian cricket captain Sourav Ganguly, businessmen Sanjiv Goenka, Harshavardhan Neotia and Utsav Parekh. The four, joined hands with La Liga outfit Atletico Madrid and made a bid for the Kolkata franchise. The club was officially launched in May 2014.
Atletico de Kolkata were subsequently crowned champions of the first edition of ISL, and little did Prithiijit Das know that he would be changing the face of Indian football. Das, who represents Atletico Madrid on the board of the Kolkata team, spoke at length with IBTimes UK.
He has worked as an investment banker in London and later joined former Manchester United and Chelsea CEO Peter Kenyon at Creative Artists Agency in 2009. He then returned to India to take over his family business.
Das went on to become the game-changer in Indian football. The director of Atletico de Kolkata said, "I have in the past worked in Europe and I am using my experience and also act as a bridge between the two clubs to pass on the best practices from Atletico Madrid to Atletico de Kolkata."
"I used to work in England with Peter Kenyon, who is the former CEO of Manchester United and Chelsea. He [Kenyon] left Chelsea to join Creative Artists Agency to run a player fund. Peter hired me to run the fund along with him between 2009-12."
When asked about his role in the ISL franchise, Das revealed, "I represent Atletico Madrid in the franchise and I'm the director at Atletico de Kolkata. I had a bigger role last year when I was trying to help them setup the club. The people managing the club have a year's experience now and my role has relatively diminished this season."
The football market in India has grown exponentially in the past decade and several top European clubs have invested in India to set up academies, summer coaching classes and exclusive apparel stores.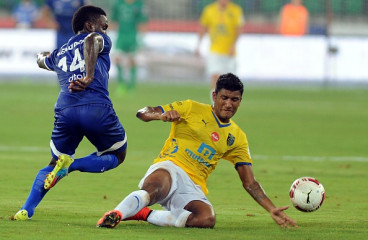 Atletico Madrid were also looking at capitalising from the Indian market, but were not sure whether to do so all by themselves or join hands with local investors. It was Das, who then acted as a bridge between the 2013/14 Spanish champions and investors in India.
"Atletico Madrid were scouting for a market and were studying the potentials in India. It was then they decided to collaborate and start a franchise," the Atletico de Kolkata director explained.
"Initially, they had two options, but were unsure whether they should start all by themselves or collaborate with someone in India. During this period, I read that Sourav was looking to invest in a football club, and we decided to partner in."
"Our plan was to attract a larger audience and Atletico Madrid felt that joining hands with domestic partners was the best way to promote sports in India."
"Following which, a meeting was held in Dubai and all the stakeholders decided to form Atletico de Kolkata. Atletico Madrid was keen on improving the quality of the game in India... there are several ways to do that. One can start summer coaching classes, can set up football academies, which have been doing really well in India," he added.
The Kolkata franchisee achieved success in the very first season of the league and went on to win it after defeating Kerala Blasters in the final. "Our success on the pitch was not only due to the efforts put in by the entire unit at the club, but was due to the work done by Atletico Madrid behind the scenes specially in zeroing on Antonio Lopez Habas as the Head Coach," he said.
Das further explained that it is the Spanish capital club that guides the ISL champions in deciding the type of players that need to be recruited by the Indian outfit. He claimed, "The technical side of Atletico de Kolkata is handled by the Spanish club. Atletico Madrid helps in preparing a shortlist of players that need to be added to the team to make it competitive. Once that is done, officials and coaches and the owners take a call on the players that would be signed."
Das was also hopeful of more European clubs joining hands with the ISL teams to develop football in India after Italian club ACF Fiorentina invested in FC Pune City.
"Fiorentina are doing well with FC Pune City. There could be potential European giants who would want to emulate what the La Liga giants did with Atletico de Kolkata. I am confident over a period of 3-5 years, several clubs from Europe will be looking to tie-up with ISL franchises to improve the club," Das stressed.
Speaking about generating world class players from India, the former investment banker said, "Indian parents are sceptical to allow their children to become professional footballers. There was no scope for professional footballers in India earlier. But now, with the emergence of ISL I'm hoping things will change and we will have a lot of young players turn into professionals in the coming years."