Islamic State torches sacred texts and smashes Virgin Mary sculptures in Iraq monastery
Christian militias liberating towns near Mosul find devastation in Iraq's largest monastery Mar Behnam.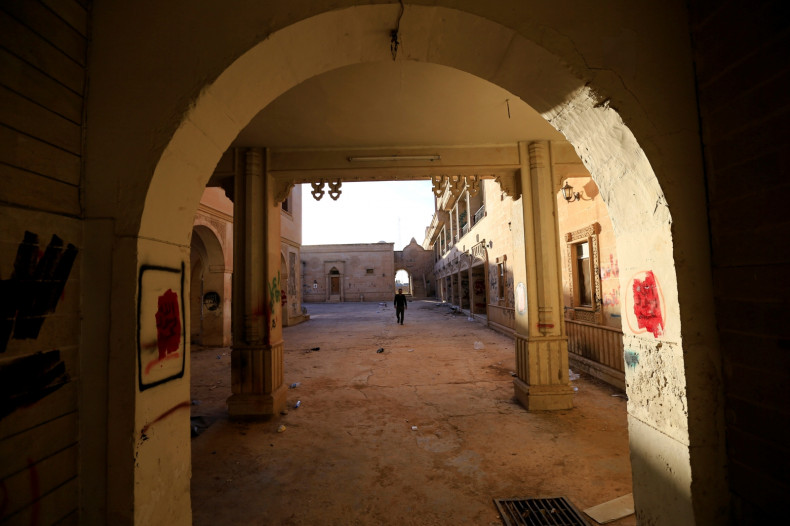 Christian militias liberating towns near the Islamic State stronghold of Mosul have found devastation in the 4th-century monastery of Mar Behnam. The site is Iraq's largest monastery, and where the militant group destroyed precious icons and burned collections of irreplaceable texts.
The militant group, which made a rapid advance across northern Iraq in the summer of 2014, turned the monastery on the outskirts of Mosul into a headquarters for its Hisba - or morality police - which handed out corporal punishments for transgressions as minor as for men shaving their beards. The monk's bedrooms were additionally turned into jail cells.
The building itself, which contained inscriptions hundreds of years old, has been gutted. Carvings in Syriac, the language spoken by Jesus, had been scraped off the walls. Crosses in the building were removed and any mention of King Benham, the Assyrian King who built the monastery, was removed.
"Their fundamental goal was to destroy Christian history and civilisation in the Nineveh plains," Duraid Elias, commander of Christian militia Babylon Brigades, told Reuters.
The Islamic State has ruled with terror and impunity throughout its two-year rule over Mosul and surrounding areas. Minorities bore the brunt of the militant group's hard-line Islamist ideology. Christians in Isis territories were ordered to pay a punitive tax, convert to Islam, or face execution.
The majority eventually fled towards the autonomous Kurdish region, including a few dozen monks who left Mar Behnam with only the clothes on their backs, Reuters reported.
The Christian Babylon Brigades is backed by Baghdad and is one of the many armed groups to have been incorporated into the Iraqi security forces following the rise of the Islamic State. These popular mobilisation forces are usually drawn from local Shia populations and, the Babylon brigades fly the flags of the Muslim group as well as carrying crosses.
Mosul itself has in the past had a large Christian population. As many as 100,000 troops aligned with the Iraqi government are now in the process of driving Islamic State from the city of Mosul.
As the assault continues its sixth week, Iraqi Special Forces are moving to take another neighbourhood in the eastern sector of Mosul but are meeting stiff resistance from Islamic State militants, Associated Press reported. The US-led coalition continues to provide airstrikes and other support to forces on the ground.