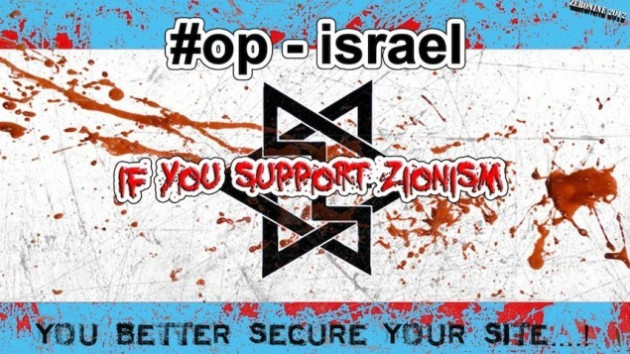 Israel is honing its cyber defence system for an attack which hackers claim will be the largest in the history of the internet.
Hackers across the world, spearheaded by the hackivist group Anonymous, are planning to unleash a massive attack on Israel later this week, according to reports.
The launch, codenamed 'Oplsrael', is scheduled to strike Israeli networks on 7 April - Holocaust Remembrance Day.
The hackers are aiming to paralyse at least 100 Israeli websites, including those belonging to banks and communication firms.
In addition to a Distributed Denial of Service (DDoS) attack, similar to the recent worldwide attack, the assailants are expected to install malicious software in the targeted websites.
'Mauritania Attacker,' who heads a team of hackers called AnonGhost, told The Hackers Post: "The hacking teams have decided to unite against Israel as one entity, and Israel should be getting prepared to be 'erased' from the Internet. It's going to be the biggest-ever operation launched against any country, it's going to be huge."
Ofir Ben Avi, director of Accessible Government Online Systems, told Haaretz: "What distinguishes this plan when compared to previous attacks is that it really seems to be organised by Anonymous-affiliated groups from around the world in what looks like a joining of forces.
"We are following this and are preparing for April 7th."
Top Israeli firms have advised users not to access the threatened websites. However, Shai Blitzblau, CEO of Israel's Maglan Information Defence Technologies Research, told Hebrew daily Israel Hayom that the hackers' skills had not reached sufficient levels of ability.
During the Israel-Gaza conflict in November, Anonymous launched a similar attack on Israel, telling the Jewish state that it was "too late to expect us".
Anonymous recently hacked the servers of Israeli intelligence service Mossad and have leaked details of thousands of agents. The attack was carried out by Turkey-based The Red Hack and the Arab group Sector404, in tandem with Anonymous.