Hamas Claims Responsibility for Israel-Gaza Terror Tunnel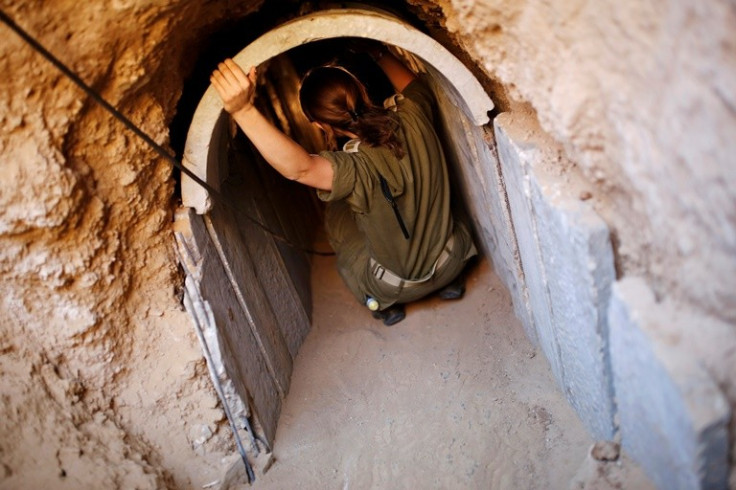 Hamas has admitted responsibility for digging the underground terror tunnel which was discovered near the border between Israel and Gaza.
Israeli Defence Forces found a tunnel stretching 450m from Southern Gaza beneath the security fence which separates the occupied territories and Israel proper.
Hamas claims the tunnel was intended to free Palestinian prisoners held inside Israel, and capture Israeli security troops.
Abu Obaida, a spokesman for Hamas's military wing, said:
"Al-Qassam Brigades dug the tunnel. The Brigades work in its full capacity over and under the ground and dig in the rocks."
Hamas's Prime Minister Ismail Haniyeh also referred to the tunnel - referred to by his movement as the Khan Younis Tunnel - in a speech following its discovery, claiming "the resistance men work over and under the ground for the liberation battle."
The building of the tunnel was a technically difficult operation. Israel estimates that 3,400 cubic metres of earth were removed during its construction and that the tunnel moved forward at a rate of 4-5m per day, with Hamas operatives using jackhammers and support shafts while trying to avoid the attentions of the IDF.
Hamas, which has controlled the Gaza Strip since winning elections in 2007, has long used a network of tunnels to smuggle weapons and supplies into Gaza from Egypt, claiming this is the only way they can fight the Israeli.
"Kidnapping soldiers is the only way to succeed against the occupation," Abu Obaida told Hamas's al-Aqsa radio.
In retaliation for the latest tunnel, the Israeli authorities have once again suspended delivery of building materials into the Gaza strip, just two weeks after lifting a similar embargo. In 2010 Israel lifted the blocking of supplies such as building materials in the face of international criticism.
Israeli officials have also sent a text to Hamas residents suggesting that Hamas cares more about the armed struggle than it does about the welfare of ordinary Palestinians:
"Hamas is spending millions of dollars on tunnels used for hostile and terrorist acts against the state of Israel. This money should have gone to infrastructure, education and health projects" said the message.
Israel is desperate to prevent a similar occurrence to the capture of Gilad Shalit, who was snatched from his base and held prisoner for five years before being swapped for more than 1,000 Palestinian prisoners in 2011.
© Copyright IBTimes 2023. All rights reserved.