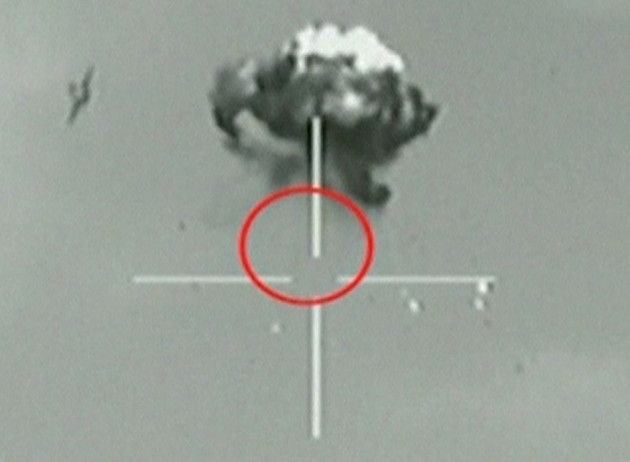 Israel has shot down an unmanned aircraft that reportedly belonged to the Lebanese militant group Hezbollah.
Although Hezbollah has not confirmed the reports, a Lebanese TV channel has claimed the group was trying to infiltrate Israel.
The group, which is perceived to be the long arm of Israel's adversary Iran, had earlier provoked concern by operating drones in Israeli airspace.
An Israeli parliamentarian, Miri Regev, tweeted: "Iranian drone launched by Hezbollah."
The aircraft was said to have been made in Iran and targeted at the Dimona nuclear reactor in Israel. It was shot down by the Israeli air force as soon as it entered Israeli airspace.
"We view with great severity the attempt to compromise Israeli airspace and will consider our response in due course," said Defence Minister Ehud Barak.
Reports suggest that even if the aircraft had attacked the reactor from the Mediterranean Sea, it would have caused little damage.
Israeli officials confirmed that the aircraft did not emerge from the Gaza Strip and was not carrying any explosives.
"This drone was spotted over the Mediterranean in a sector near the Gaza Strip before entering Israeli airspace, where the air force followed it. It was followed from the beginning until the time it was decided to intercept it and shoot it down for operational reasons over the Yatir Forest in the northern Negev, an uninhabited region," said Israeli military spokesperson Lieutenant Colonel Avital Leibovich.
Earlier reports blamed another militant group, Islamic Jihad, for the incursion, but the group has denied any involvement.
A senior security official told Ynet news: "Israel is aware of Iran and Hezbollah's technological capabilities. The current discussion is about how Israel should respond to such an infiltration of a drone and if it should be compared to the launching of a missile or rocket from Lebanon, which has always drawn an immediate response in the form of artillery fire or aerial strikes on targets in south Lebanon."