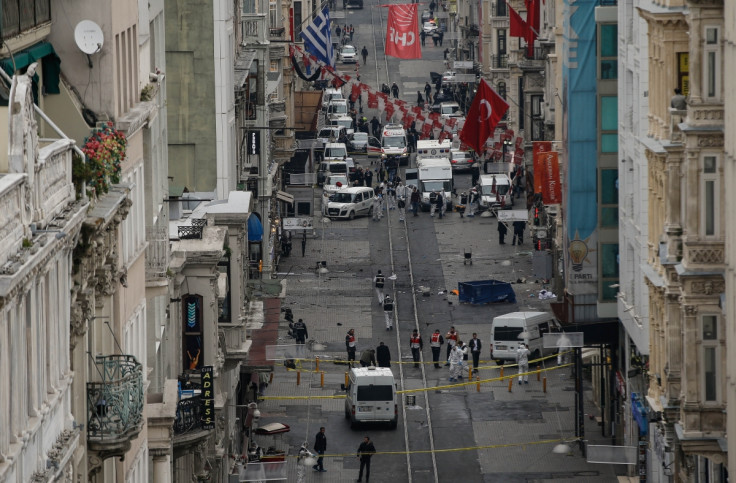 The key suspect in a suicide bombing that left five dead in Istanbul's main shopping district, Istiklal Street, had ties to Islamic State (Isis), said Turkey's interior minister. On 20 March, Minister Efkan Ala said Mehmet Ozturk, who was thought to have killed himself in the bombing attack, had links to the Islamic fundamentalist terror group operating in neighbouring Syria.
Two Israeli-Americans, one Israeli and an Iranian died in the incident, with at least 36 people injured in the busy shopping district that is usually packed with visitors and shoppers during weekends. A "number" of Irish citizens were also said to have been wounded in the attack near Taksim Square in the famous Istiklal Avenue at around 11am local time.
Ala announced that the bomber had been identified as Turkish citizen Ozturk, who was born in 1992 in Gaziantep province, which borders Syria. He added that five other suspects have been detained in the investigation.
Turkish media had reported that three men were in police custody with two of them from Gaziantep. And several media outlets named the alleged perpetrator of Saturday's attack as Savas Yildiz, a 33-year-old Turkish radical.
Turkish news agency, Dogan, reported that authorities took DNA samples from Ozturk's family and compared it to remains found at the site of the bombing to confirm his remains.
The explosion in Istanbul came as Turkey recovered from a series attacks across the country. At least 37 people were killed and 125 others injured in a suicide bombing in central Ankara on 13 March.
Another 28 people were left dead by another bombing in the same area of Istanbul in February. Both attacks have been claimed by a splinter Kurdish militant group known as the Kurdistan Freedom Hawks (TAK). And in January, 10 people, mostly German tourists, were killed in a suicide bombing at Istanbul's iconic Sultanahmet Square that was blamed on IS.