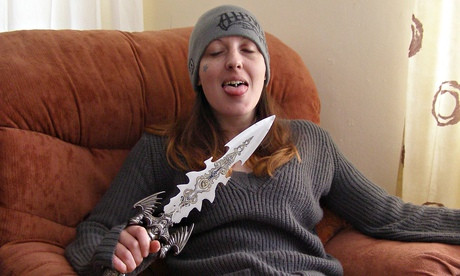 A spree killer who stabbed three men to death in March 2013 has reportedly taken up baking after being inspired by Mary Berry and the other stars of the Great British Bake Off. Joanna Dennehy is said to use chocolate bars and other ingredients to make flapjacks and crispy cakes.
The 33-year-old is serving a whole life sentence at HMP Bronzefield near Ashford, Surrey for the killings and for stabbing two other men over a 10-day period in March 2013.
"She's smart and has taught herself how to make all sorts with the microwave," a "source" told The Sun on Sunday newspaper, adding that she religiously watches the popular BBC programme.
Dennehy, from Peterborough, is seeking compensation for being held in solitary confinement in HM Prison Bronzefield, where serial killer Rosemary West is also held, claiming it is a violation of her human rights. In a High Court challenge against Justice Secretary Michael Gove, barrister Hugh Southey QC said continued isolation left Dennehy "tearful and upset".
Stabbing spree
Defending the decision to continue to keep her separated from other prisoners, which entails long periods of isolation, Jenni Richards QC, for the prison, said Dennehy was "arguably the most dangerous female prisoner in custody".
Dennehy murdered Lukasz Slaboszewski, 31, Kevin Lee, 48, and John Chapman, 56, in March 2013 before dumping their bodies in ditches in Cambridgeshire. She also attempted to murder two men in Hereford, both of whom survived her attacks.
It has emerged that Dennehy was being supervised by the probation service at the time of the killings. A restricted report seen by BBC East has highlighted deficiencies by the probation service in monitoring Dennehy, who was described as having a "sadistic lust for blood".
'Lust for blood'
Completed in March 2014, the report describes how she had been given a 12-month community order for assault and owning a dangerous dog in 2012. It said a "more experienced offender manager" should have been appointed to deal with the complex nature of her case.
A probation service spokesperson said lessons had been learned from the report.
"Our sympathies are with the families of the victims following these abhorrent crimes," they said. "Public protection is our priority and in the very rare case of serious further offending, a review is carried out to identify any areas for improvement."
They added: "Recommendations from this review were taken on board at the time and action was taken to improve the management of cases going forward."