The ancient city of Rome may have once ruled vast swathes of the planet, but the Italian capital is now being overrun by pesky rodents. The rat infestation is so troublesome that residents are even referring to it as an "invasion" and are demanding that authorities take swift action.
The rats have been wreaking havoc on the city for years and regularly terrorise people at the iconic Trevi Fountain after emerging from its drains. As the fountain was undergoing extensive restoration in July 2015, between 10 and 20 rats were spotted each night, infuriating residents who called the problem "a shameful spectacle".
In 2014, the infestation was so bad that it forced Rome's Court of Appeal to temporarily stop proceedings after rats broke the air conditioning, heating system and took up residence in the pipes of the courthouse.
Despite spending some €400,000 (£305,000, $437,500) to eliminate the vermin in 2013, the problem has continued to grow, sending the city's residents and visitors into a frenzy. One restaurateur told Italian newspaper Il Corriere: "On Saturday evening the whole street was invaded by rats. We were afraid to set foot on the street. We were very careful to keep entrances closed, out of fear that animals could get into the restaurant".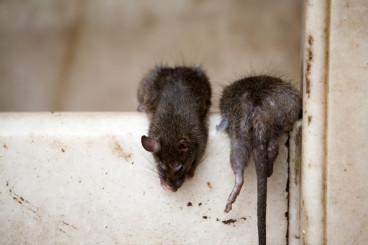 Apart from sparking fear and panic, the rodents pose a very real health hazard as they can spread and transmit a number of diseases to both humans and animals. Marco, the owner of the Baguetteria Fico restaurant, said that it had been forced to close early last weekend over concerns that the rats could sneak into the shop. He told Il Corriere: "I also helped a lady to cross the street, who was terrified of the beasties. There were dozens and dozens of them and they ate from the garbage, not bothered by us as we watched them astonished."
He added that the issue had been brought to the attention of local authorities, who assured locals that "the whole area will be 'deratted'".
Despite the growing issue, international pest control agency Anticimex has some technological solutions to eliminate the vermin. "Rome has always had a struggle with the problem of mice and rats, and lately is recording more and more frequent cases of sightings in the streets of the city centre," said Elizabeth Lamberti, an Anticimex employee. "For effective results, today you can resort to technological solutions which respect the environment. [There is no more need for] dangerous and invasive products," she said.
Anticimex said that between 2014 and 2014, it had seen a 45% increase in extermination requests in Rome.