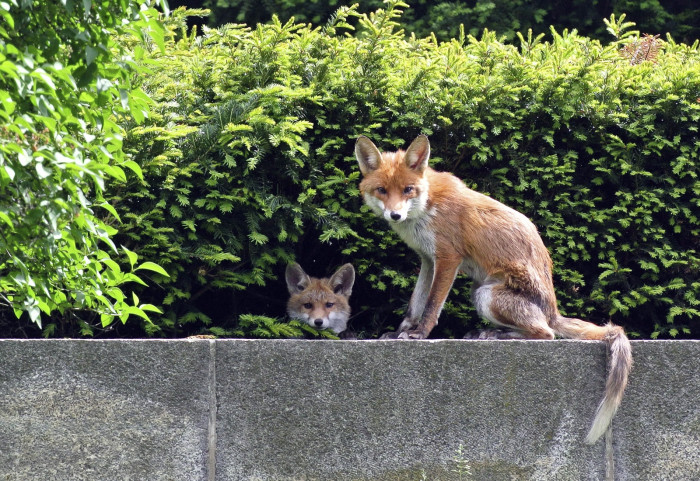 A two-year-old boy is recovering after being attacked by a fox as he slept in his own bed in his family's home in New Addington, south London.
The toddler's parents ran to his room after hearing screams and found the fox still sitting at the end of the bed. It then escaped through a faulty cat flap.
The boy was rushed to Croydon University Hospital with two bites on his heel and treated with a course of antibiotics.
The boy's parents do not wish to be named but his grandmother, 46-year-old Sharon Vaizey, told the Croydon Advertiser the incident could have been even worse.
"When I heard my whole body went like jelly," said care worker Vaizey. "I couldn't move. You think if they didn't hear the fox then it could have run off with him.
"You see it in the news and read about it in the papers all the time but you never think it's going to happen to you."
Mum-of-four Vaizey said her grandson was a "tough little boy" but that it was fortunate his parents were awake when the incident happened as the fox was large enough to have carried him away if undisturbed.
She said her daughter, the boy's mother, wanted to kill the culprit and now hates foxes.
In 2010 a fox attacked nine-month-old twins in Hackney, east London. Lola and Isabella Koupparis received injuries to the arms and face.
In 2013 in Bromley, Kent, four-week-old Denny Dolan had a finger bitten off as he slept.
Last year Mayor of London Boris Johnson said urban foxes were a growing problem in the capital.
Fox expert John Bryant told The Telegraph that although rare, foxes did occasionally sneak into homes through cat flaps.
"It is always wise to keep the cat in and shut the cat flap at night," said Bryant. "It is another incident, but fortunately minor. In 40 years of working with foxes, I have never come across an aggressive one. It was exploring. They haven't got fingers to test things, so they test things with their mouth."
Research carried out in 2013 by the University of Bristol's Mammal Research Unit revealed that the number of urban foxes in Britain had not changed dramatically from in the 1980s. Rather foxes are more noticeable now because they are becoming more accustomed to the presence of humans and are more willing to reveal themselves.