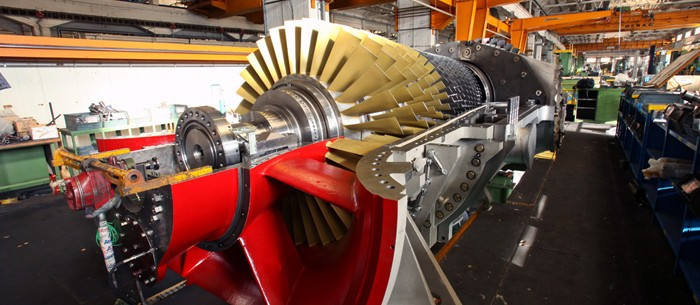 Italy's Finmeccanica has confirmed that it is in advanced talks with South Korea's Doosan Heavy Industries to sell a major stake in Genoa-based AnsaldoEnergia.
The state-backed defence firm told unions that it was in talks with a number of foreign manufacturers to sell two other units, trainmaker AnsaldoBreda and rail technology developer AnsaldoSTS.
The moves would help the Italian industrial group pare back its debt.
Finmeccanica's stock was trading 3.89% higher to €4.70.
Finmeccanica controls 55% of AnsaldoEnergia. The remainder is owned by US-based private equity firm First Reserve, which is focused on the energy sector.
A Reuters report said that Doosan would purchase First Reserve's entire stake and pegged the value of the deal at between €1.2bn and €1.4bn (£1.2bn, $1.9bn).
Finmeccanica put AnsaldoEnergia on sale more than a year ago but has faced political opposition to foreign control of state-owned firms. Finmeccanica, 30% owned by the Italian taxpayer, needs government approval for disposals.
The unions have urged Italy's state-holding Cassa Depositi e Prestiti or its Italian Strategic Fund investment arm to acquire core stakes in the three subsidiaries.
"The Italian government should immediately get involved. We ask the government to clarify once and for all its position with regards to the sale process," the unions said.
Ratings downgrades
Slow earnings growth and a failure to execute planned sales worth €1bn forced ratings agency Moody's to slash the Italian industrial group's credit rating to junk.
Fitch Ratings downgraded Finmeccanica to junk status in June while Standard & Poor's downgraded it in January.
Finmeccanica is part of the conglomerate, comprising Britain's BAE Systems and Airbus-maker EADS, which builds the Eurofighter Typhoon jet. The Italian aerospace firm expects to return to profits following two years of losses.
EADS said it expected moderate revenue growth in 2013. It also reaffirmed its 2013 forecast for increased deliveries of commercial jets to between 600 and 610 on better demand from airlines in the Middle East and Asia.
Earlier, BAE Systems had delivered a bleak outlook for the US and UK markets after it posted a slump in profit and sales for 2012.