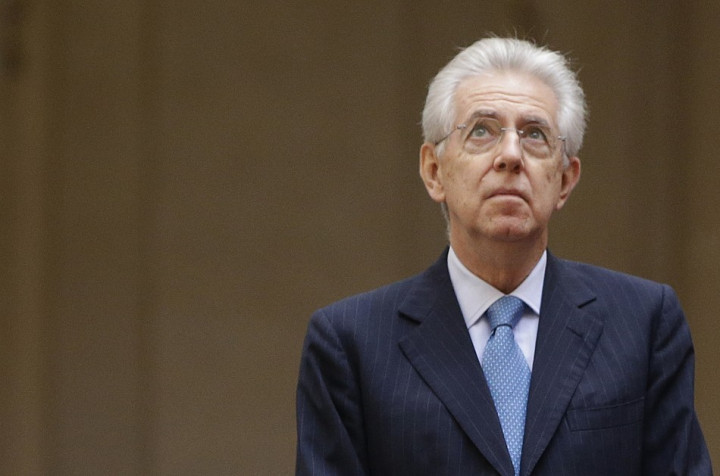 Italian Prime Minister Mario Monti's administration has survived its first test as a minorty govement after winning a confidence vote despite former PM Silvio Berlusconi pulling out his party support as a political gesture.
Berlusconi's party's abstention in a confidence vote in the Italian parliament precipitated a political crisis for the government.
Without the support of Berlusconi's People of Freedom party (PDL) Mario Monti's government lost its parliamentary majority and is at risk of falling before its term in office is due to end.
Monti said he would wait for President Giorgio Napolitano's evaluation to see whether he can continue to govern without the PDL.
PDL, which had backed the goverment, abstained in both parliamentary houses on a bill proposing budget cuts to regional government administrations, which have been accused of excessive waste.
PDL party whip Fabrizio Cicchitto said the party has decided to deny supporting the Monti government over its disastrous economic record.
But some PDL members, among them former foreign minister Franco Frattini, refused to follow the party whip and voted for the government.
"You do not have our confidence, go home!" shouted Matteo Bragantini of the far-right Northern League, which has never backed the Monti government.
The leftwing Democratic Party's Dario Franceschini said PDL members were "irresponsible" in making such an abrupt turnaround on its position "in a country as deep inside the crisis as we are". He said the move was an electoral stunt by Berlusconi's party.
Seventy-six-year-old Berlusconi has been widely hinting he intends to form a new party and run for prime minister again.
Berlusconi's revenge on the man who took his favourite job just 12 months ago came shortly after Corrado Passera, minister of economic development in the Monti government, said the media tycoon running for PM again was a backward step.
"We need to give the sensation that the country is moving ahead," Passera said.
The about-turn by PDL was first announced in the Senate. "PDL's Senate group wants to express its shift [in position] to abstention," party whip Maurizio Gasparri said.
But the party's weight in the Senate is less than in the Lower House, where it counts on 206 out of 630 MPs and Monti survived the vote of confidence.
Monti's government of unelected technocrats has ruled with the support of a wide parliamentary coalition made up of Berlusconi's PDL, the Democratic Party and some moderate parties.
Its term runs until spring 2013. Monti has not made clear yet if he will stand for election.
EXCLUSIVE: How Silvio Berlusconi is Planning Political Comeback