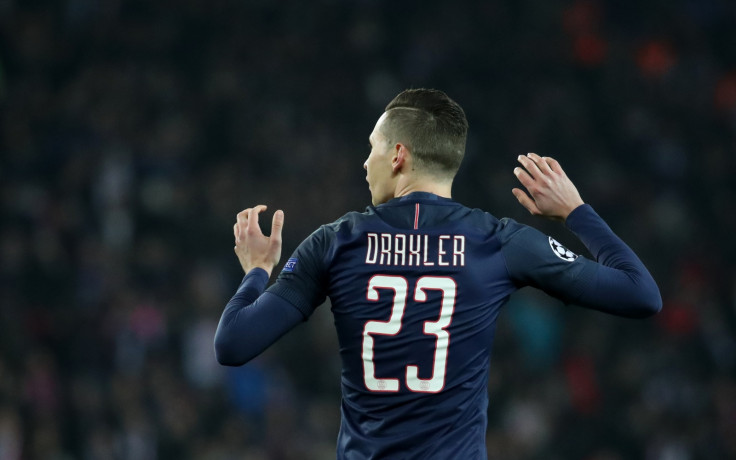 Paris Saint-Germain attacking midfielder Julian Draxler says his decision to reject an offer from England, thought to be from Liverpool, was never motivated by money.
Draxler joined the French giants from Wolfsburg during the January transfer window on a four-and-a-half year deal for a reported fee of £35m ($45m). The Germany international has become a regular under Unai Emery in the French capital this season but was unable to prevent PSG surrendering their Ligue 1 crown to Monaco, ending the club's four-year reign as champions.
Draxler insists however he made the right choice in choosing France over England.
"You know we have been in talks with some clubs in England as well, but this time I decided to make the decision as to what I feel and what I prefer for myself," Draxler told BBC World Service.
"There were some teams that wanted me from the Premier League but it was not like it was very, very close.
"Football is about making decisions and that's what I did. I decided that PSG is the best club for me at the moment."
Before Draxler sealed his move to Parc de Princes, a member of Draxler's entourage told Le Parisien the midfielder was "hesitating" between PSG and Arsenal and had still to make a decision over which of the two clubs to sign for.
The Liverpool Echo also reported Jurgen Klopp had been monitoring the player, interest that ended when Wolfsburg announced their agreement with PSG on Christmas Eve.
When asked about the interest from Anfield, Draxler said: "It's not about Jurgen Klopp, about Liverpool or about different clubs from England.
"It was just my opinion that I am the best player for PSG at the moment – so that's what I decided.
"I chose a great new step in my career because PSG is a really, really great club . They have big goals, they want to reach big things and that's why I want to be part of it. I did not – and will not – decide my club just for the money."
Draxler has also made no secret of the fact that he wants to see international teammate Mesut Ozil follow him to the French capital. The Arsenal playmaker has just one more year remaining on his contract at the Emirates and the PSG midfielder thinks his compatriot would be open to a move across the channel.
When asked if he thought Ozil would join PSG, Draxler replied: "Yes, I think he is a great player. He would help every team in the world and I think he would enjoy the life here and even to play for PSG."