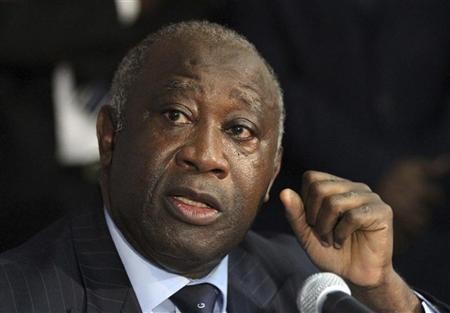 The International Committee of the Red Cross says it has visited former Ivory Coast President Laurent Gbagbo, who has been detained in the West African nation since April.
A Red Cross spokesman said Friday officials from the organization met with Gbagbo and several others in detention or house arrest as the organisation wanted to ensure that the detainees are being treated humanely after the Ivory Coast's post-election crisis.
The visits this week included stops in the cities of Bouna, Boundiali, Katiola, Korhogo and Odienne.
The Red Cross says it has visited 500 detainees at 60 different locations across the Ivory Coast since the beginning of the year and will continue to visit them.
"This was the first visit (to Gbagbo)," ICRC spokesman Marcal Izard told Reuters.
However, as the International Committee of the Red Cross (ICRC) only shares its findings only with detaining authorities, the independent aid agency only indicated in a statement that its standard terms of holding private interviews with inmates to evaluate their treatment and detention conditions had been met.
ICRC officials visited Gbagbo on Tuesday in the northern town of Korhogo, Izard said. He declined to say whether the former president was being held under house arrest in the town about 300 miles (482 km) from Abidjan, but said: "We can confirm he is not in a prison".
His wife was visited on Thursday in Odienne, he added, a town some 368 miles (593 km) from Abidjan.
"Gaining access to everyone arrested in connection with the post-electoral crisis has always been a priority for the ICRC," said Dominique Liengme, head of the ICRC delegation in Abidjan.
"We will continue to visit people held in all temporary and permanent places of detention in the country to make sure they are treated humanely," she added.
The ICRC also arranges for the exchange of family news between detainees and their relatives and distributes medical and other supplies to detainees as needed.
Violence erupted in Ivory Coast and threatened to once again destabilise the country, already traumatised by a long and bloody civil war, after Gbagbo lost the November elections to his old arch-rival Alassane Ouattara but repeatedly refused to give up power. More than 3,000 people were killed as both the Gbagbo and the Ouattara forces affronted each other in the streets of Abidjan.
Gbagbo, who was arrested in April after pro-Ouattara forces swept into Abidjan, and is now awaiting trial for alleged economic crimes and a possible International Criminal Court probe into war crimes during the post-election conflict that killed at least 3,000 people.
President Ouattara signed a decree on Wednesday establishing a commission of inquiry into crimes committed during the country's violent post-election turmoil.