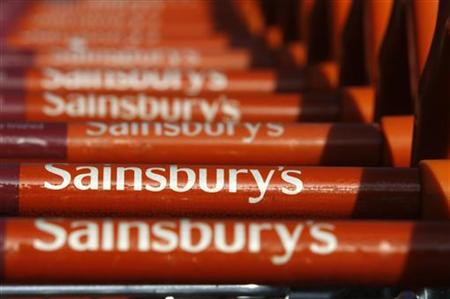 Shares in J Sainsbury were up on the FTSE 100 and are a weak hold after the supermarket group reported a rise in first quarter sales of 1.1 per cent.
The group said that total sales in the quarter ended 12 June were up 7.6 per cent including fuel and rose 4.4 per cent excluding fuel.
Like for like sales were up 4.6 per cent including fuel and 1.1 per cent excluding fuel.
The group said that it is on track to deliver around £145 million square feet of gross space growth in 2010/11, having opened one supermarket and completed two store extensions in the quarter.
Justin King, Chief Executive of J Sainsbury, said, "We've delivered another good performance ahead of the market on top of strong growth last year.
"Contribution from net new space (excluding fuel) stepped up to 3.3 per cent reflecting strong performance from new stores ahead of our expectations and the full impact of the 2009/10 opening programme. Continued fuel price inflation has driven further growth with total sales including fuel up 7.6 per cent.
"Nectar has consolidated its position as the UK's no.1 loyalty scheme with around 17 million registered card holders and regular Sainsbury's users are up over 800,000 versus this time last year."
On the new quarter Mr King said, "We have made a good start to the financial year in line with our expectations. While we continue to expect the consumer environment to remain challenging, our universal customer appeal, unique loyalty offer and accelerated growth strategy mean we are well placed to make continued good progress."
Richard Hunter, Head of UK Equities at Hargreaves Lansdown Stockbrokers, commented, "The comparison with Tesco is inevitable, but Sainsbury has not made any notable inroads into eroding the bellwether's position.
"Sales growth was fairly anaemic, whilst in the background the Qatari stake and the pension deficit continue to cast shadows. The tougher consumer environment and lower food inflation have and will continue to impact, and higher fuel prices add to the mix. More positively, steps are being taken to address the pension position, the accompanying comments showed some optimism, and the dividend yield of around 4.4% is supportive in the current interest rate environment.
"The shares' performance has outperformed the wider FTSE100 by 5% over the last quarter, but the picture is less impressive over the last year, where the company has given up 1% versus a FTSE gain of 21%. Thus, despite investors' reservations following on from Tesco's update yesterday, that company remains the preferred play within the sector with Sainsbury coming in at a weak hold in terms of market consensus."
By 09:01 shares in J Sainsbury were up 0.55 per cent to 326.20 pence per share on the FTSE 100.