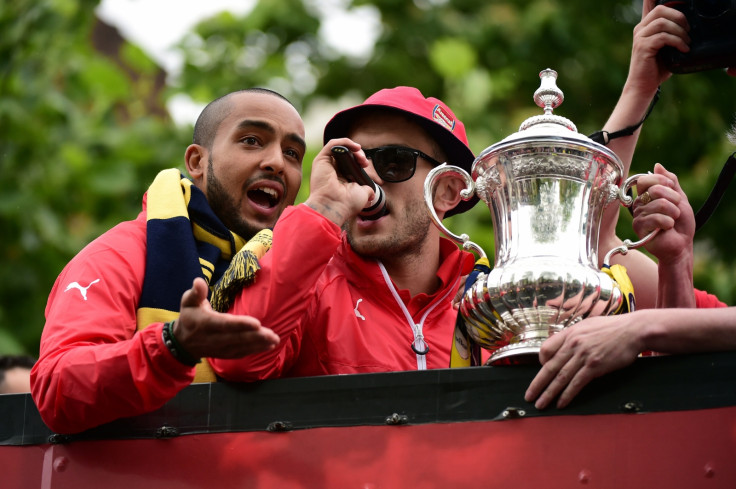 Jack Wilshere has revealed that he is bewildered at the FA's decision to charge him as he was just having a bit of fun without trying to hurt anyone's sentiments.
The midfielder was charged by the managing body for making remarks about Tottenham in Arsenal's open bus parade following their record 12th FA Cup win on 30 May at Wembley. The Gunners obliterated Aston Villa 4-0 to claim the trophy for the second time in successive years and making a case for a title challenge next season.
Wilshere revealed that he came to know about the charge only when he reported for national team duty and is still pondering over whether to contest the charge or let it pass. The midfielder played the first half in England's dire 0-0 draw with Ireland in a friendly in Dublin and was among the Three Lions' better players on the pitch.
The charge can lead to a playing ban, which will prevent him from starting the campaign for the Gunners. However, he added that he meant no disrespect to Tottenham and that the activity was to build up some rapport with fans, who were present in droves.
"People have been giving me a lot of stick for having some fun and enjoying myself at the end of the season," Wilshere said.
"We've worked hard all year and we've won a trophy. That's the best feeling in the world.
"No matter what job you do, if at the end of the year you get a promotion and a bonus, you're going to go out and celebrate. So I think that side of things was a bit harsh. I am quite proud of always having had that bond with the Arsenal fans since I was young because I came through the club," he added.
"I grew up at Arsenal and I love the fans, but believe it or not, I've actually got family who are Tottenham fans so it's nothing personal against them, it was just a bit of fun," the Arsenal star explained.
"I found out about the charge when I met up with England. One of the press officers told me. It was a surprise. I didn't know I'd been charged so I was like, 'what?' It's being dealt with by the FA and my club. What will be, will be," he concluded.