It's not easy being a supercar owner in Britain. Unlike our fair-weather friends, we're just not that lucky. Predictable rain, unpredictable sunshine, and the odd slosh of snow. There are some supercars that wouldn't even entertain peeking out from behind the garage door in such conditions, but for the Jaguar F-Type SVR, this is playtime.
The SVR is born from the mad brains at Jaguar Land Rover's secretive Special Vehicle Operations unit where engineers push cars to their limit. Here they've taken the F-Type R and poured spinach into its tank. The fastest accelerating Jaguar ever built, the SVR is more powerful than any that has gone before it – that includes the legendary XJ220 (although it still has a higher top speed).
Available in convertible or hard-topped coupe the latter comes with a top speed of 200mph and will pounce from 0-60mph in just 3.5 seconds thanks to a supercharged 5-litre V8 flexing 567bhp. With all that power bulging from beneath the facelifted bonnet salvation comes by way of its all-wheel drive system.
Jaguar SVR review: Performance and price
Built to handle unsavoury outlooks, Jaguar calls the SVR the 'all-weather supercar' with the AWD using clever computer sensors to deliver adequate power to wheels that are struggling for traction. Our time with the SVR took us on meandering Surrey roads scattered with slippery leaves and greasy, rain-soaked surfaces. The SVR didn't flinch. Despite the almighty, guttural warcry of the re-tuned titanium exhaust threatening otherwise, it stuck to the road like a Dyson, giving us the comforting encouragement that all that power wouldn't Buckaroo us into a hedge when we put our toe down.
Jaguar F-Type SVR Coupe specs
0-60mph: 3.5 seconds
Top speed: 200mph
MPG: 25mpg (combined)
Price: from £110,000 (OTR)
Some could argue this control takes away its edge, its rawness – that it's too restrained compared to its twitchy 200mph-topping, rear-wheeled peers. No, this is a refined beast; a wolf in Saville Row clothing that can behave like a savage when you open its taps.
The standard F-Type's aluminium frame is already waiflike but the SVR weighs in 25kg lighter. Opt for the carbon fibre pack (costing around £15,000), which includes a carbon roof, spoiler, wing mirrors and carbon ceramic brakes and it strips another 25kg off the total weight. The new exhaust alone is 16kg lighter than in the F-Type R. If the SVR were a gym-goer its friends would undoubtedly nod in appreciation at its weight-loss, muscle-gain 'shredding'.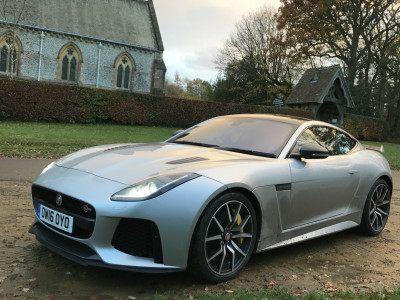 The result is a nimble, lithe and tight performance that's enhanced through state-of-the-art electronic power steering and the snappy, recalibrated eight-speed quick shift transmission, which makes easy work of going through the range. Engage Dynamic mode and all that power and poise is let loose as suspension stiffens, gear ratios remap, revs raise and the exhaust rattles angrier. Even with the increase in performance, its fuel economy is still pretty respectable at 25mpg – that's the same as the F-Type-R. This is made possible due to all the weight reduction.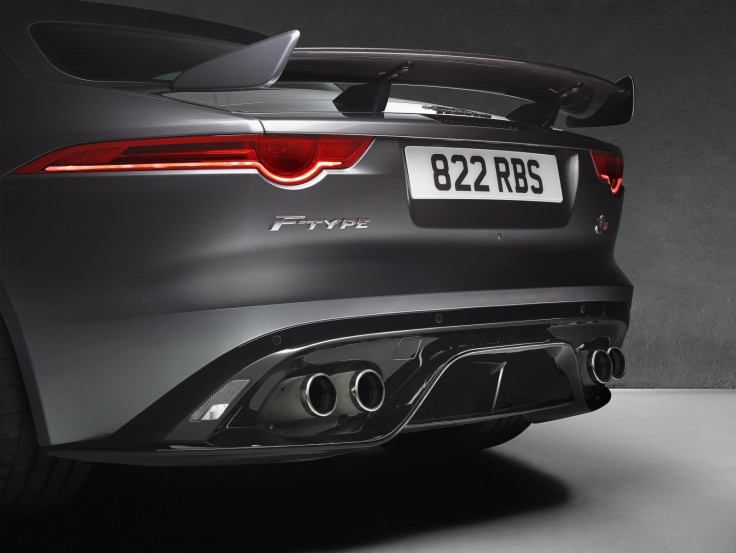 By-the-numbers it can out-box the likes of the Mercedes AMG GT and Aston Vantage GT8 (£165,000), and only just lose on points to the Porsche 911 Turbo (£126,000). Rubbing bumpers in these circles for £110,000 is a relative snip. However, this is £24,000 more than the F-Type R which is still a heavyweight sportscar.
Jaguar SVR review: Interior and technology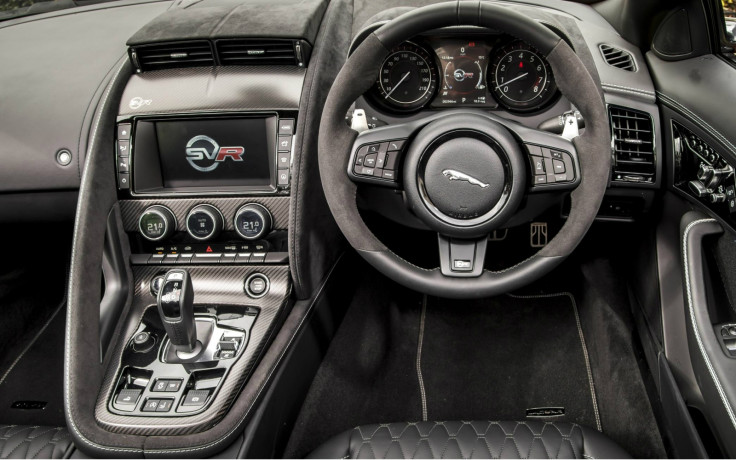 Some of that cost you'll see as you slide into the luxurious surroundings of the interior. Quilted leather seats, splashings of suede, aluminium and (of course) more carbon fibre create an environment more akin to a grand tourer that you could comfortably take across continents. The design layout is inspired from fighter jet cockpits with centre console dials within easy reach of the driver, and there's colour-changing ambient mood lighting around the cabin. It's a lovely place to be.
Then there's the lashings of tech, too. An 8in touchscreen commands the dash, controlling everything from exterior cameras to heated seats and the stonking 12-speaker, 770w Meridian sound system. There's even an app for the car that allows owners to lock/unlock it, start the engine without being sat inside; activating the climate control so it's at optimal temperature for drivers.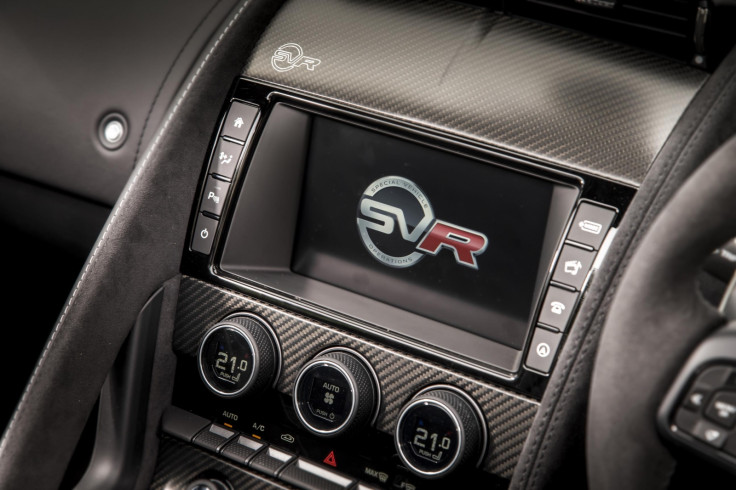 Tech is an integral part of the F-Type's story. In designing the company's first two-seater in over 50 years JLR used the latest in virtual reality to create half-a-million different analyses, with 3D prototypes for engineers to move, dismantle and explore in and out. These digital versions removed the costly and time-sucking process of creating a clay scale model every time a design change was tweaked.
Our verdict
What makes the SVR special is that it's no 'Sunday supercar' to be handled with soft gloves and only driven in Goldilocks conditions. It might look like it should spend its days prowling track days and sound like it'll bite your hand if you pet it too hard, but this can easily be your commuter car and your fun on the side.
For purists wanting to feel like they've just cheated death after ever drive, the refinery and composure of the SVR may leave them wanting more – that's reserved for some of its Italian counterparts (but it'll cost you). The F-Type SVR is still a thrilling, visceral ride accompanied by a soundtrack that gives goosebumps but it doesn't compromise on comfort or versatility – we even managed to squeeze a golf bag into the boot (just).
It looks like an animal and will upstage some more expensive rivals but despite its luring price tag for entry into the supercar club, the V8 F-Type R can also set the pulse racing and that gulf in price is hard to ignore.