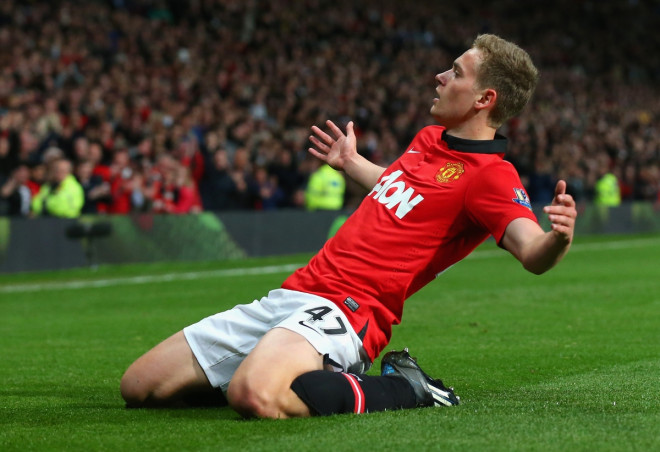 As Ryan Giggs thanked the Old Trafford crowd for perhaps the last time as a Manchester United player, it seemed only right that the occasion was marked by the emergence of two more burgeoning talents desperate to fill a void that will be left at the club this summer.
It was a night ultimately concluded by an emotional speech from Nemanja Vidic who will leave the club this summer. But introductions were just as prevalent as goodbyes, as 18-year-old James Wilson continued his seamless rise through the club's ranks with a debut brace.
Having scored at Under-18, Under-19 and Under-21 level this season, his goals either side of half time made him just the fourth player to emerge from the club's academy to score twice on his senior debut, joining a fairly exclusive party consisting of Sir Bobby Charlton, Shay Brennan and Paul Scholes.
While Wilson's predatory instincts and presence in the match day squad for the 4-0 defeat of Newcastle last month suggested he would have some role to play this season, the sight of the teenager limping off ten minutes from time in the Premier League Under-21 semi-final victory over Liverpool last Friday cast doubt over his inclusion.
But Wilson shrugged off those fitness concerns to deliver a performance that ensured those who were not aware of his reputation definitely are now.
Lawrence, meanwhile, has battled his way into contention following an impressive two month loan spell with Carlisle in League Two in December and January before taking a step up with Yeovil from February onwards.
The 20-year-old was back in Manchester to help his side overcome Liverpool alongside Wilson on Friday and his direct, aggressive running and willingness to take on the opposition demonstrated he feels he could be ready to continue his rise in Manchester.
On Vidic's final night at Old Trafford, 21-year-old Michael Keane was always unlikely to get the shout ahead of the departing captain. The centre half made his first team bow in 2011 and has since enjoyed three impressive stints in the Championship, a trajectory similar to that of the one taken by Jonny Evans who helped Sunderland clinch the Championship in 2007.
Should Keane replicate the Northern Irishman's route to the first team, another loan spell in the top flight beckons before he is considered, but his increasingly commanding performances coupled with United's dearth of options at centre half could justifiably see him fast-tracked.
Louis van Gaal's penchant for working with youngsters will be met with encouragement by those looking to follow the likes of Adnan Januzaj into the first team. While an extensive rebuild of the side who failed so dismally this season is expected this summer, it will come as no surprise should the Dutchman decide to throw the most burgeoning of those straight into the first team as Giggs did last night.
Having also taken the step up from Under-18 to Under-21 level this term, Belgian-born Andreas Pereira will harbour such desires. The versatile no. 10 will be vying for a place in arguably the one position where United are adequately stocked, but Nicky Butt believes the 18-year-old has the qualities required to deliver an impact coming in off either side, similar to that of Andres Iniesta.
"He's Iniesta-like coming off the left onto his right foot and can play from the right too," Butt told Bleacher Report earlier this year.
"He's very young, still maturing, he needs to be aware it is not all about trickery and sometimes you have to show how good you are doing the simple things –then every now and then show a bit of magic.
"If he learns that he can be a superstar; he's got the x-factor you need to play at this club."
Having cut his teeth in the Championship and shone on United's pre-season tour of Asia last summer, Jesse Lingard will feel his chances at Old Trafford must come sooner rather than later if they are to come at all, having been ignored by David Moyes this season.
The tenacious Ben Pearson will be aware his central midfield position will be the subject of much speculation this summer with names like Toni Kroos and William Carvalho being linked with the club. But having carried himself with striking assurance in duels against Tottenham Hotspur duo Mousa Dembele and Nabil Bentaleb in an Under-21 fixture in April, he could be another to make inroads in cup clashes next season.
Ryan Giggs described Tuesday night as a "glimpse of the future," while romantic hopes of the emergence of a group of players resembling the Class of '92 with be reinforced should Warren Joyce's Under-21 side secure Premier League success later this month. Wilson, Lawrence and the many others hoping to earn their chance to astound will be hoping that mantra still rings true next season.