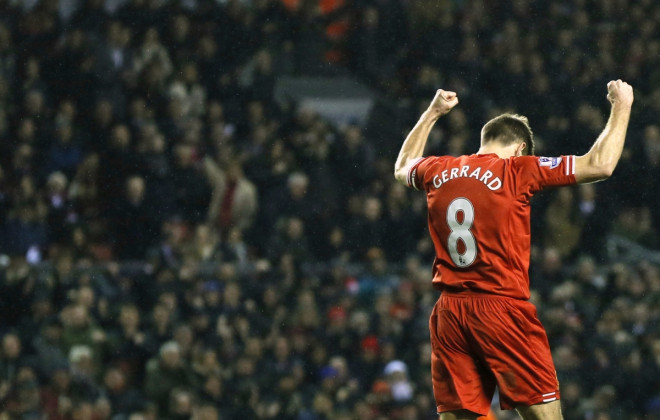 Jamie Carragher believes that Liverpool winning the Premier League trophy will be the biggest show of respect for Steven Gerrard who rejected many offers from various clubs across the world to stay with the Reds.
The defender reveals how he told Gerrard to consider his position in the city and take a call on his future when other clubs came calling.
Gerrard was wanted by Jose Mourinho at Chelsea and then at Real Madrid but the midfielder decided to persist with the Reds in spite of opportunities at other clubs where he could have increased his medal tally.
The 33-year-old has won all other domestic trophies with the Reds and also the Champions League in a historic night at Istanbul where they beat AC Milan in a thrilling encounter.
Carragher talks about how Real Madrid striker Raul enquired about his availability after their 4-0 demolition of the Spanish giants in the Champions League.
The defender, who retired after the end of last season, reveals how Manchester United were also interested in his services, a move which would have doubled his medals tally of 11 with liverpool.
However, the captain stayed on and has inspired the Reds to their best ever campaign in the Premier League in recent years and more or less earned them a place in the Champions League next season.
"My only advice to him back then, when Chelsea ramped up their efforts, was to look at the big picture. He could have gone to Stamford Bridge and returned with all kinds of medals but when he eventually returned home to Liverpool, how would he have been viewed?" Carragher said.
"Would Liverpool fans have congratulated him? Would they have been happy to see him be successful? Given the rivalry between the clubs, it would have been impossible. That's why one title with Liverpool would mean more to him than 10 anywhere else.
"Ultimately, he was right to stay; 12 months after that first offer from Chelsea, Stevie got his hands on the biggest prize of all in Istanbul. He immortalised himself with his performances that season, most notably in the Champions League final against AC Milan.
"When you think about it, though, his loyalty to Liverpool has been unbelievable. Had he not come from this city, I don't think for one moment he would have stayed, particularly given that Liverpool haven't been anywhere near the Champions League for five years," he concluded.