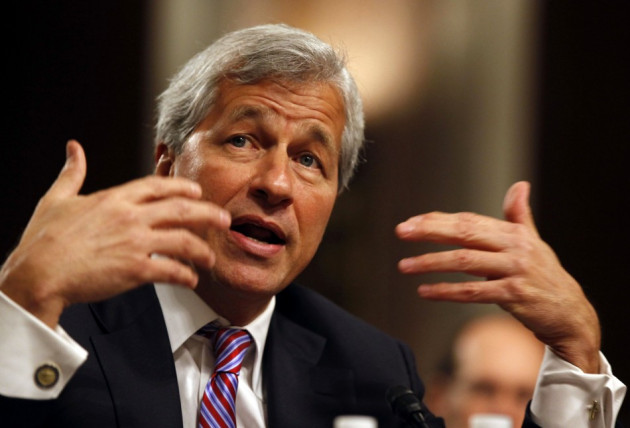 JP Morgan chairman and chief executive Jamie Dimon survived a shareholder revolt over whether he should be allowed to keep both positions at the investment bank.
After only 32% of shareholders voted for the split in roles, IBTimes UK decided to take a look at why Dimon remains one of Wall Street's most powerful people.
Name:
James 'Jamie' Dimon
Age:
March 13, 1956
Nationality:
American
Family:
Dimon comes from a long line of financiers as both his father and grandfather were stockbrokers.
He has an older brother, Peter, and a fraternal twin brother, Ted.
He is married to Judith Kent, whom he met at Harvard Business School. They have three daughters: Julia, Laura, and Kara Leigh.
Education:
1978: Tufts University - Psychology and Economics
1982: Harvard Business School - Master of Business Administration (MBA)
Current Position:
He was named JP Morgan President on 1 July 2004. He later became chief executive of the bank in 2005 and, in addition, chairman in 2006.
In 2011, he received a pay package of $23m (£15m, €17.8m), which was more than any other bank CEO in the US at the time. It was not surprising, considering, he helped the bank rack up fiscal 2011 profits of $19bn.
Despite the bank being bailed out by the US Federal Reserve in 2008 for $12bn, Dimon was named as one of the 100 most influential people in the world by Time magazine in 2006, 2008, 2009, and 2011.
Career Path:
Dimon served as chief operating officer at JP Morgan from 1 July 2004 to December 31, 2005 in tandem with his presidency at the investment bank.
Before joining JP Morgan, Dimon served as the chief executive at Bank One Corp, (also known as Banc One Corporation) from 27 March 2000 to July 2004.
He also acted as co-chief executive officer of a subsidiary of Citigroup, Salomon Smith Barney Holdings, from October 1998 to November 1998.
Prior to this appointment, from November 1998 to March 2000, he was a private investor.
Other Positions:
On top of his duties at JP Morgan, he also serves as a Director of the Chicago Clearing House Association.
In addition, he serves as a Director of College Fund/UNCF and Harvard Business School as well as a Trustee of The University of Chicago and New York University Medical Center.
He also holds a director role at the National Center for Addiction and Substance Abuse.