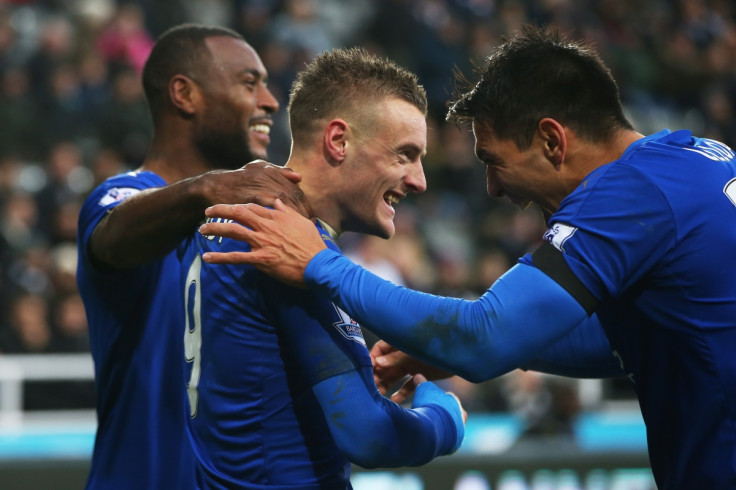 Ruud van Nistelrooy has send a message of good luck to Jamie Vardy ahead of the Leicester City striker's attempt to break the all-time record for goals in successive Premier League games, against Manchester United. Vardy equalled the Dutchman's feat of netting in 10 straight matches after scoring in the 3-0 win over Newcastle United but must breach the meanest defence in the top flight he is to take the record for himself.
Vardy netted in added on time at the end of the first half at St James' Park to extend his run and send the Foxes top of the Premier League after 13 matches. The 28-year-old's run began against AFC Bournemouth at the end of August and Van Nistelrooy hopes the run goes on – but not at the expense of his former side.
"I sent him a message of support last weekend on social media and I really meant it," the 39-year-old said, according to The Daily Mail. "It would be fantastic for him. I really mean it, records are there to be broken. He can score one on Saturday, in fact I hope he does but hopefully United score three and win 3-1. But no, seriously, if he does it, I'll be delighted for him."
Wayne Rooney and Anthony Martial returned for United's Champions League group game against PSV Eindhoven, playing alongside Memphis Depay. The 21-year-old has endured a chequered campaign since arriving for £25m during the summer, according to The Guardian, but Van Nistelrooy is seeing a marked improvement.
"Memphis has the quality and ability to replicate United's famous number sevens," said Van Nistelrooy, who was speaking as a guest of the Oxford Union, said, according to Sky Sports. "To make a difference at United means being really brilliant and being decisive in big games. He is not yet ready for that quite yet.
"He will rise again. He will become better and more influential. He is really eager to learn. When he is with the national team, I have worked very closely with him. We watch his video clips a lot and closely analyse what he can do better and improve upon. As a coach, I always look to accentuate positives to make his strong points even better. He will get there, I'm sure."