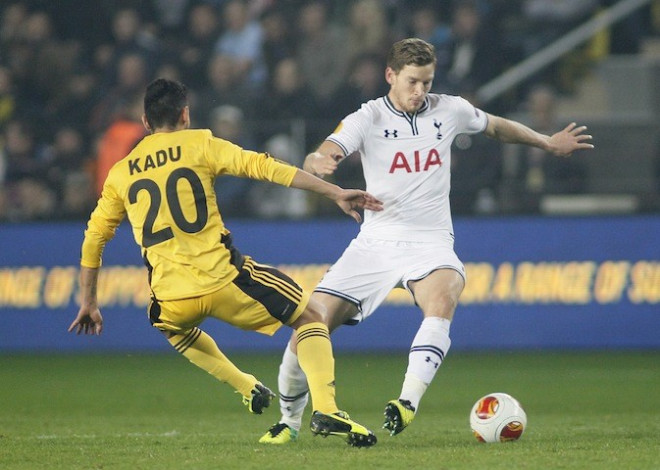 Jan Vertonghen has urged Tottenham Hotspur to improve their league form in March in order to keep their Champions League ambition alive.
The north London club will face Chelsea, Arsenal and Liverpool this month, apart from Southampton in the top flight competition in England. The Belgium international believes failing to register victory over the three clubs could see them miss out of Europe's elite club competition next season.
Sours registered a 1-0 narrow win over Cardiff City at White Hart Lane last weekend. Summer signing Roberto Soldado broke his recent goal drought, which has kept his side in contention for a place in the top four this season.
Tim Sherwood's side are fifth in the table with 53 points from 28 games, trailing fourth place Manchester City by four points and league leaders Chelsea by 10. Liverpool are second with 59 points, level on points with Arsenal.
"We needed those three points, but we will have to improve because we are playing better sides in March. It is not just Liverpool we are chasing; I think there are other teams who can drop down," Vertonghen explained.
"We are just watching fourth place - it does not matter who we catch. It was not our best game (on Sunday) but we are back on track after losing to Norwich," the defender added.
Meanwhile, Spurs visit Stamford Bridge as they take on Chelsea in the next league fixture on 8 March. Vertonghen will face his compatriot Eden Hazard, who has been in fine form for the Blues this season.
The Belgium defender believes Spurs need to be wary of the threat possessed by Chelsea's strong midfield players and not Hazard alone.
"He is in good form and we will need to defend well against him. But it is not only Hazard. Andre Schurrle scored three times against Fulham, they have midfielders who can score goals and they are strong from set-plays. It will be an important game for both of us and we want a good result," Spurs star concluded.
Jose Mourinho has never lost a league game with Chelsea at home during his two spells. Spurs will have a tough task ahead of them to come out victorious at Stamford Bridge.