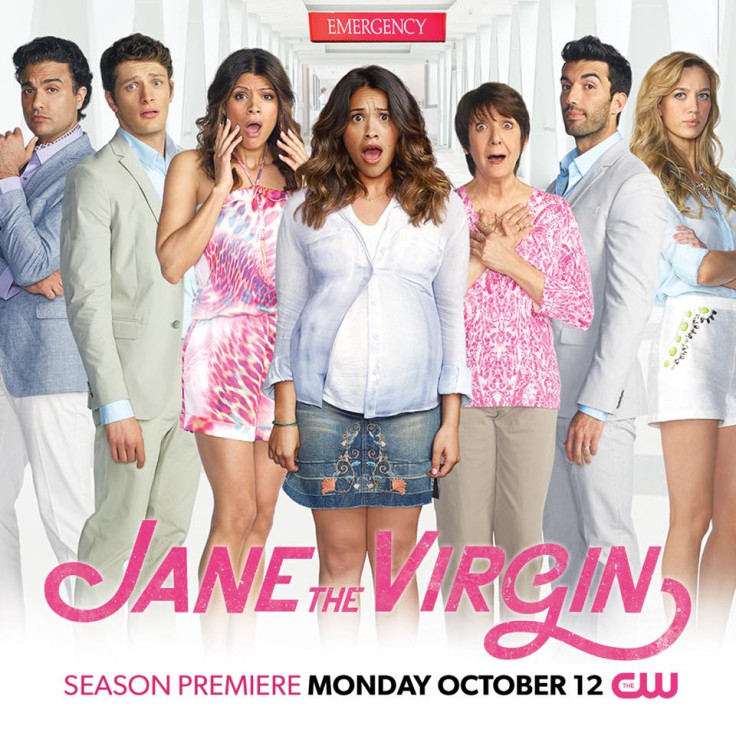 The CW network will premiere season 2 of Jane the Virgin a week early than previously announced.
According to a Spoiler TV report, "The CW Network has moved the fall 2015 premiere date for the series debut of Crazy ex-girlfriend, and the return of the award-winning comedy Jane The Virgin to Monday, October 12. The series were originally scheduled to premiere on October 19."
Season 1 ended after Jane finally gave birth to a healthy baby boy named Mateo. However, shortly after his birth, her newborn baby was kidnapped by Sin Rostro.
Petra on the other hand, took Rafael's sperms home from the fertility clinic, and it was discovered that Jane's parents, Xiomara and Rogelio got married while they were drunk in Last Vegas.
Executive producer Jennie Urman has revealed that there will be more than one wedding in the new season. Also, Jane will decide whether she wants to be with the father of her child, Rafael, or her ex-fiancé, Michael (Brett Dier).
Urman told TV Guide, "Jane will make a choice with one of the guys, eventually, and we will have a wedding at some point in the season."
"By the fifth episode there's an unexpected marriage of two characters, and that's going to be the first [wedding]," Urman said. "And of course our weddings [will have] big, fun, whimsical set pieces."
With weddings being teased, who do you think Jane would choose?
Previously, Gina Rodriguez, who play Jane said that her character would evolve into a stronger person, once she gets her baby back in season 2.
"Obviously, Jane is going to find out the baby's gone," Rodriguez told The Huffington Post.
"I'm really excited to play that. I'm really excited to see what we end up deciding that experience is going to look like," she added.
"But I want to see Jane's strength. And I think you're going to see Jane's strength. I'm hoping we're going to see the crazy amount of strength she has, to see Jane be a mother and not a passive aggressive one, but a very strong, forward mother. But we'll see! We'll see what happens!" Rodriguez had said.