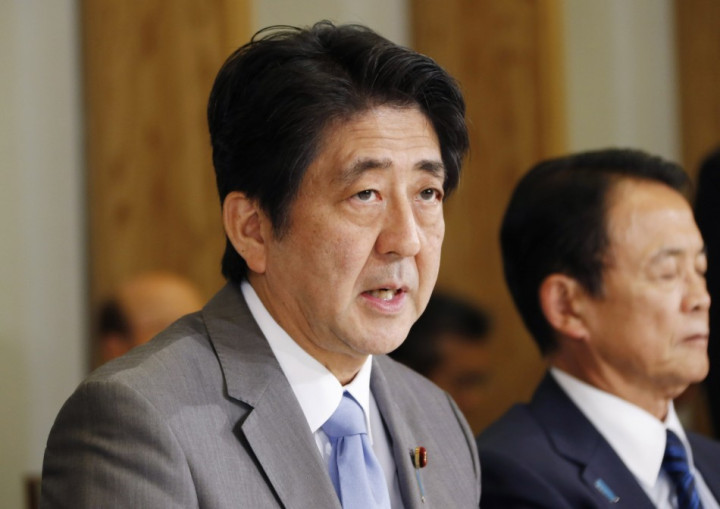 Yorihiko Kojima, chairman of Japanese conglomerate Mitsubishi Corp., has supported Prime Minister Shinzo Abe's aggressive economic policies, by saying that they have succeeded in building market optimism.
Prime Minister Abe and the Bank of Japan have unveiled a series of massive fiscal and monetary stimulus to pull the country out of a 15-year deflationary period and boost economic growth.
His policy, generally known as 'Abenomics' involves using the so-called three arrows of fiscal stimulus, monetary easing and a package of growth-oriented initiatives including deregulation.
The measures have so far helped the economy, despite a few shortcomings. Kojima said that they helped a recovery in the yen and about 50% increase in the Nikkei stock index since December.
"The challenge now is converting this positive sentiment into genuine improvements in the real economy," Reuters quoted Kojima as saying at a luncheon sponsored by Boston College's Chief Executives' Club of Boston.
He added that Japan's hosting of the 2020 Summer Olympics and participation in the Trans-Pacific Partnership negotiations for a free-trade zone led by the US will support Abe's policies.
Nevertheless, he noted the country's proposed sales-tax hike is risky.
Expansion in Energy Sector
He noted that Abe's policy, if moving in the right direction, would help the company expand in the country's key energy sector.
Mitsubishi, a multinational company, has finance, banking, machinery, chemicals, food and energy businesses. Despite its significant presence in the energy sector overseas, the company's domestic options are limited as large regional monopolies dominate the sector.
Following the disaster at the Fukushima Daiichi plant in 2011, Japan is relying more on imports for its electricity needs. Abe is considering reduced dependence of nuclear energy and opening up the electricity market for increased competition.
"At this point the energy mix, we have to change it. About 30% is nuclear power, and this will be going down to 20% or something," Kojima told Reuters.
Debate on 'Abenomics'
Recent economic data, including inflation, industrial output, employment and workers' income added to signs that Abe's radical policies are moving Japan in the right direction.
However, pessimists have argued that the benefits of 'Abenomics' may not be sustainable and will not prompt more corporate investment and wages in the absence of structural reforms such as tax cuts and labour reforms.
Japanese companies that are willing to spend are not investing within the country due to the prospect of a weakening yen, according to analysts. The new assembly plants and expanded factories announced by Mazda Motor and Honda Motor are planning to establish their new assembly plants and expanded factories in Taiwan rather than in the home country.
The yen's weakness benefits Japanese companies with overseas operations with higher profit as they repatriate money to the home country.