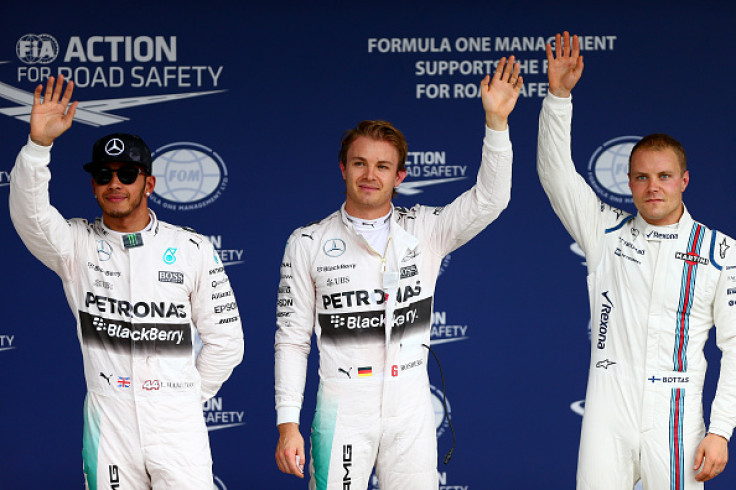 Nico Rosberg was handed his second pole of the season at the 2015 Japanese Grand Prix when Red Bull Racing driver Daniil Kvyat had a spectacular crash in the final minute of Q3, preventing all the other drivers from completing their final timed lap, which could have seen a change in the starting order. Much to Mercedes' relief, their cars are back on pace following a blip in Singapore, as Lewis Hamilton qualified in P2, despite showing the pace to beat his teammate to pole.
Where to watch live
The race starts at 6am BST (Sunday) with Sky Sports F1 and Sky Sports F1 HD providing live TV coverage. Real-time internet updates are available on the Live Timing section of the sport's official website.
Live updates will be available on the IBTimes UK website from 5am BSTonwards.
Qualifying review
Daniil Kvyat's massive shunt in the final session of qualifying (Q3) made sure Nico Rosberg was handed pole before the drivers could complete their second and final timed laps. The session was red-flagged one minute before the end following the crash and it was not restarted as the drivers did not have sufficient time to complete an out lap.
Lewis Hamilton made it an all-Mercedes front row, but showed that he had the pace to beat his teammate for the pole position. His first lap was just 0.076 seconds slower than the German, but replays showed that he went wide at the hairpin causing him to lose time.
The Williams are back to being the best of the rest as Valtteri Bottas took the third place ahead of Ferrari's Sebastian Vettel. The Williams team struggled in the tight and twisty Marina Bay street circuit, but look to have the place in Japan.
The Red Bulls are back behind the Ferraris and Williams on this track that requires more horse power compared to the previous race in Singapore. Ricciardo is in seventh, but his teammate faces a race against time as his side will have to set up his car from scratch after the Russian damaged the chassis during his accident, which was caused by a rookie driving error when Kvyat veered off the track and went over the grass sending his car into a spin and into the barricades.
The Mercedes look to be on a different planet in Japan, and barring any technical issues, it will be a battle between the two teammates for the first two positions, while Ferrari, Williams and Red Bull will fight it out for the final place on the podium.
Top 10 results of qualifying session from the Suzuka International circuit, Japan:
N Rosberg (GER) Mercedes 1:32.584
LC Hamilton (GBR) Mercedes 1:32.660
V Bottas (FIN) Williams 1:33.024
S Vettel (GER) Ferrari 1:33.245
F Massa (BRA) Williams 1:33.337
K Raikkonen (FIN) Ferrari 1:33.347
D Ricciardo (AUS) Red Bull 1:33.497
R Grosjean (FRA) Lotus 1:33.967
S Perez (MEX) Force India No Time
D Kvyat (RUS) Red Bull No Time