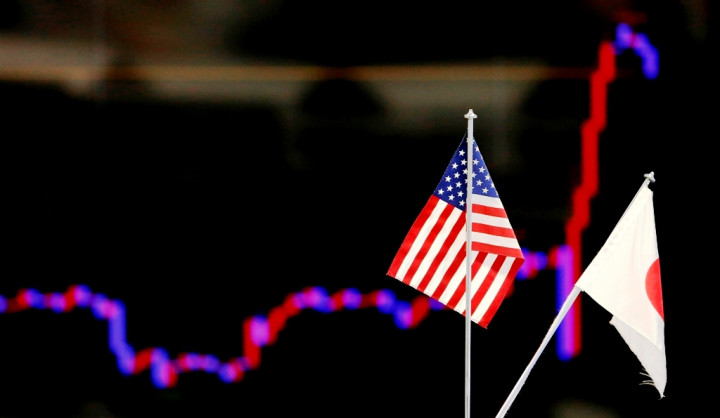 Japanese investors' purchases of foreign stocks struck a near six-year high last week as bets that the US dollar will strengthen against the yen triggered overseas purchases.
Japanese market participants bought a net 393.1bn yen ($3.6bn, £2.2bn, €2.8bn) of shares outside Japan during the week ended 26 September, 2014, data from Japan's finance ministry showed.
That buying spree was the biggest since the period ended 30 January, 2009, and compares with an average of 46.3 billion in net weekly purchases so far this year, the data showed.
Japanese investors also bought 184.6bn yen of foreign debt last week.
Meanwhile, foreign investors sold a net 195.7bn yen of Japanese bonds and divested 41.6bn yen of the country's shares.
Juichi Wako, a Tokyo-based equity strategist at Nomura Holdings, the nation's largest brokerage, told Bloomberg: "It's logical that all investors in Japan, both individuals and institutions, would increase their foreign assets if they think the dollar will strengthen. Foreign investments in stocks and bonds will increase."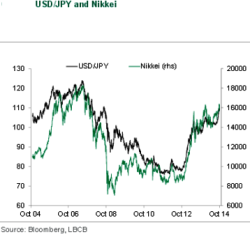 Lloyds Bank said in a note to clients: "USD/JPY managed a brief break above 110 [on 1 October], but without an obvious reason for the break, with the Japanese data if anything slightly stronger and official comments if anything discouraging further JPY weakness.
"By the close, there was a clear negative technical signal in USD/JPY. The outlook still depends very much on the US data, but the combination of a change in official tone, weaker equities and lower US yields does suggest downside risks have increased."
The yen lost 5.1% against the greenback in September 2014.