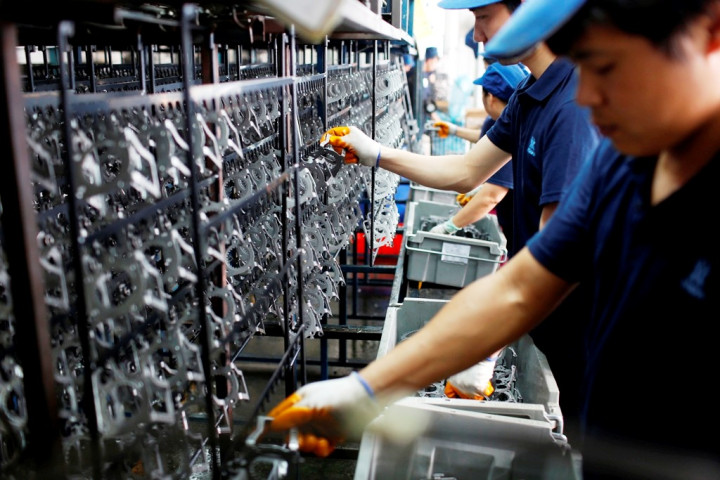 Factory activity across much of Asia staggered in September, with slowdowns in India, Japan and Taiwan and decline in South Korea handing a setback to hopes for higher global growth this year.
The downbeat performance buoyed the US dollar, pushing it above 110 yen level for the first time since mid-2008.
Data from a government-compiled Purchasing Managers' Index (PMI) survey and a separate HSBC/Markit survey showed that China's manufacturing activity held steady in September. The two polls threw up readings of 51.1 and 50.2 respectively. The 50 threshold divides expanding activity from a contraction.
In Japan, the final Markit/JMMA Japan PMI eased to 51.7 in September, from 52.2 in the preceding month, and followed dismal data from the world's third largest economy, which revealed that factory output, consumer spending and real wages all fell in August.
While the Bank of Japan's widely tracked Tankan survey highlighted improving business confidence among manufacturers, the sentiment for the Japanese services sector worsened more than expected.
In Taiwan, the country's PMI eased to 53.3 in September, from a strong 56.1 in August, as growth in new orders and new exports slowed.
Elsewhere, factory activity in India expanded at its slowest pace in nine months in September with a PMI reading of 51.0, from 52.4 in August.
South Korea was the worst performer. The HSBC/Markit PMI slid to a three-month low of 48.8 in September, indicating that activity contracted.
But separate official numbers showed South Korea's exports to China rebounded in September. The nation logged a near 20% growth in exports to the US, while shipments to the EU fell by over 5%.
Expert View
Chen Zhongtao, an official at the China Federation of Logistics and Purchasing, which helps compile the Chinese government's PMI said in a statement that "the economy still faces a degree of downward pressure."
Barclays Bank said in a note that it continues to maintain its "below-consensus" China GDP growth forecasts of 7.2% for 2014 and 6.9% for 2015. Beijing is targeting 7.5% growth this year.
Capital Economics said in a note: "[1 October's] official PMI suggests that while conditions [in China] have held up better than many had expected on the back of healthy foreign demand, the cooling property sector has continued to weigh on economic activity and import demand."
Commenting on China, ANZ Research said: "...the current crackdown on shadow banking activities, continued weakness in the property market and rising credit risks in the commodity sector will continue to weigh on the economy.
"However, the Chinese authorities will remain proactive to arrest the slowing momentum. Indeed, China's central bank relaxed property policies [on 30 September, signalling that the Chinese authorities are still keen on delivering decent growth."
Commenting on Japan, Capital Economics said: "The sharp deterioration in business conditions in the non-manufacturing sector in [1 October's] Tankan suggests that output may have shrunk yet again in the third quarter."
Earlier, Capital Economics said the "stagnation in small business confidence in September provides yet another indication that Japan's economic recovery remains sluggish."
The Japanese economy shrank 7.1% on an annual basis in the second quarter, the biggest contraction since the 2009 global financial crisis, following the 1 April sales tax hike, to 8% from 5%.