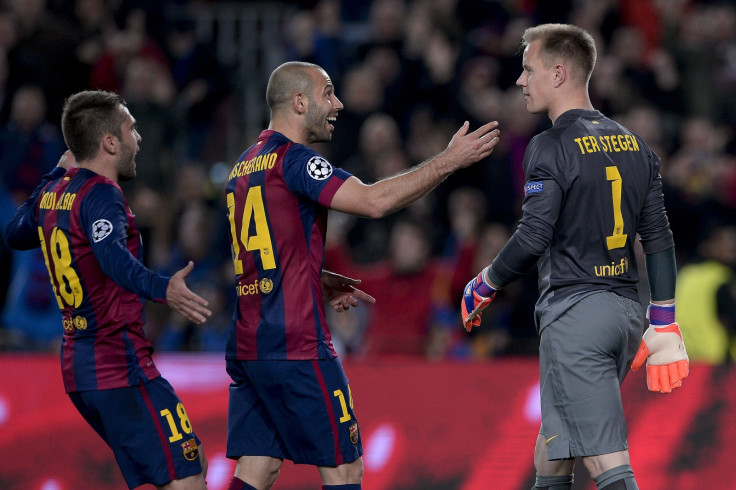 Barcelona are tracking possible replacements for Javier Mascherano, according to AS, with the Argentine centre-back's future at the club in doubt. The former Liverpool defender has been tempted by offers from China, despite having previously turned down an offer from the counter worth €50m (£44m, $56m).
Mascherano was linked with a move away from the La Liga giants, with Sport reporting he had agreed a deal in principle to move to Juventus along Dani Alves. The Argentina international himself admitted he was considering his future amid suggestions he was disappointed by the lack of support given by the club regarding his tax troubles with the Spanish authorities.
However, Barcelona refused to negotiate his departure and in July both parties appeared to end speculations by announcing an agreement for Mascherano to renew his contract at the club. However, the deal is yet to be signed and AS now suggests Chinese money is rearing its head again.
Last year the Chinese Super League smashed transfer records with the acquisition of major stars like former Chelsea midfielder Ramires, Jackson Martinez and Alex Teixeira in deals worth £25m, £31m and £38.4m respectively. Mundo Deportivo reported at the time Mascherano had received an offer from an unnamed Chinese outfit worth €50m in salary, but decided to turn it down.
AS claims that the Chinese could improve those terms now to tempt Mascherano to leave the Nou Camp once and for all.
Barcelona are expected to have the last word as the player is still under contract. However, AS claims that they have begun hunting a potential replacement should the player decides to leave.
The Spanish publication fails to name any specific targets but says club scouts have already drawn up a list of potential names, having already signed Samuel Umtiti during the summer transfer window. The arrival of the French centre-back has restricted the playing time of Mascherano during the opening part of the season and AS suggests this could be one of the reasons for the ex-Liverpool star to consider quitting the Nou Camp in the near future.