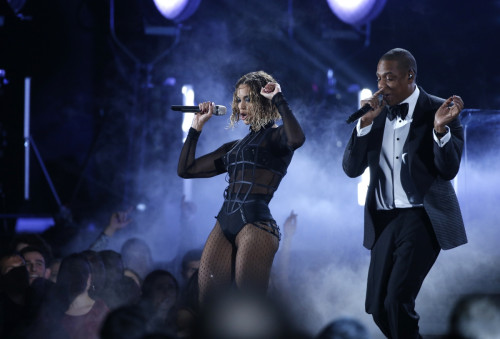 Jay-Z has been slammed as a "poor excuse for a husband" and accused in a scathing New York Post article of sexually exploiting his wife Beyoncé.
In Naomi Riley's epic takedown of the rapper, she lambasts Jay-Z for allowing other men to ogle Beyoncé as she straddled a chair, twerked and gyrated against him at the Grammy Awards.
"What do you call a man who stands there smiling and singing as his scantily clad wife straddles a chair and shakes her rear end for other men's titillation?" Riley asked before mocking Beyoncé's recent essay on feminism.
An extract from Riley's article reads: "He's made a living singing lyrics that call women 'bitches' and 'hos,' so we shouldn't be surprised that he objectified his own wife on stage."
She also accused the musical power couple of blurring the lines between private and public and bringing sex to a family show.
"The sophisticates will say that what we saw were just the long-established stage personas of Beyoncé and Jay-Z, why should their marriage change that?" she continued.
"Well, for one thing, the happy couple have invited audiences to admire their adorable family, with dad even joking about his daughter's sippy cups when he accepted an award on Sunday. So they're suggesting to audiences that this kind of public sexual behavior is compatible with a loving modern marriage."
Riley implied that Beyoncé put on the raunchy display in a misguided attempt to embrace her sexuality.
She added: "It is a little bit surprising coming so soon after Beyoncé contributed to the recent feminist manifesto, the Shriver Report. When she complains that 'gender equality is a myth' one wonders to what extent her consent to sell sexuality has contributed to the problem."
Her comments came just days after the couple, who are rarely seen indulging in PDAs, held hands and shared as kiss on stage when they opened the 2014 Grammy Awards with their duet of Beyoncé's new song Drunk in Love.
While the song received a standing ovation from the 16,000-strong audience, many fans and some concerned parents insisted that their risqué performance was too explicit for the Grammys' PG rating.
Stephen Peters said: "Sorry Beyoncé! Class always wins. It wins for our children. Sad day when our kids can't even watch the Grammys. #Puzzled."