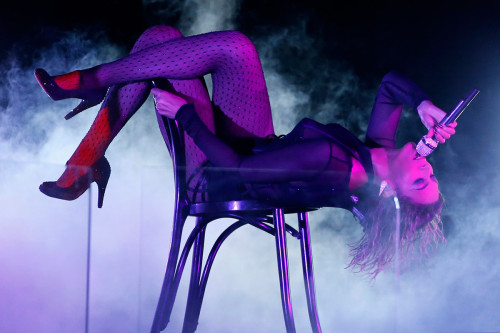 Music power couple Beyoncé and Jay-Z have turned fans off with their raunchy performance on the biggest night in music.
Queen B and her rapper husband pulled out all the stops when they opened the 2014 Grammy Awards with their duet of Beyoncé's new song Drunk in Love.
Dressed in a sheer black bodysuit and tights, Queen B did some cabaret-style dancing on a chair before twerking and then gyrating on her husband.
The fiercely private couple, who are rarely seen indulging in PDAs, also held hands and even kissed on stage.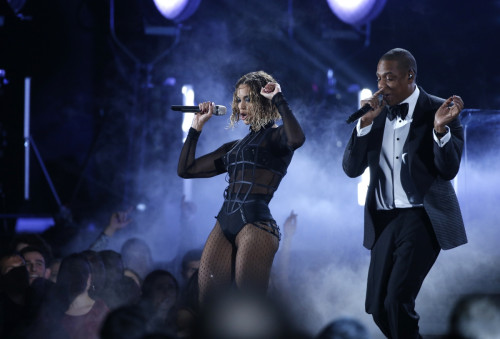 But while their duet received a standing ovation from the 16,000-strong audience as well as an impromptu dance-along from Taylor Swift, many fans insisted that it was too hot for the Grammys' PG rating.
Beyoncé was also accused of lip-synching and taking lessons from Rihanna by donning fishnets and a leather thong to impress her fans.
One critic wrote: "I was UNDERwhelmed........def hyped and they just didn't deliver and she WAS def lip syncing the first half of the song......lips were not moving with the voice. I'm still a major fan but I was def expecting more. #NEXT"
Concerned parents also deemed the risqué performance too explicit for their children to watch.
Stephen G. Peters said: "Sorry Beyoncé!!! Class ALWAYS wins! It wins for our children. Sad day when our kids can't even watch the Grammy's! #Puzzled."
Beyoncé's performance came just weeks after she revealed in a mini-documentary about her new self-entitled album that she has finally embraced her sexuality.
"I don't have any shame about being sexual. I'm not embarrassed about it. And I don't feel like I have to protect that side of me," she said.