Jelena Ostapenko became only the second unseeded player ever to win the women's French Open singles title and the first since Margaret Scriven in 1933 after producing a superb comeback to stun pre-tournament favourite Simona Halep in Saturday's (10 June) final at Roland Garros.
The 20-year-old, who saw off Caroline Wozniacki and Samantha Stosur before overcoming Timea Bacsinszky to become the first non-seed to reach the final since Mimi Jausovec 34 years ago, found herself a set and a break down in Paris but demonstrated superb spirit to battle back and claim her first tour-level title of any description on only her eighth appearance at a Grand Slam event.
"I cannot believe I am champion at 20 years old," Ostapenko said. "I love you guys. It's so amazing to be here.
"I have no words, it is my dream. I'm so happy. I knew Simona was a great player. But I tried to play aggressive and everything turned my way. I fought for every point. I'm glad it finished my way."
Ostapenko began an entertaining contest with trademark gusto, immediately dispatching a flurry of impressive winners and taking the first of three break points on offer with an accurate backhand down the line.
The Latvian, boasting a forehand quicker than Andy Murray's, then fought back to 30-40 in her own opening service game. However, she threw away that initial advantage with an errant shot into the tramlines.
A pair of holds followed before further back-to-back breaks. Halep, pushed onto the defensive by a powerful opponent whose default mode always seems to be all-out attack, then crucially saved another break point and was taken to deuce in each of the next two games before wrapping up an engrossing first set with a third break sealed by another sequence of unforced errors from Ostapenko.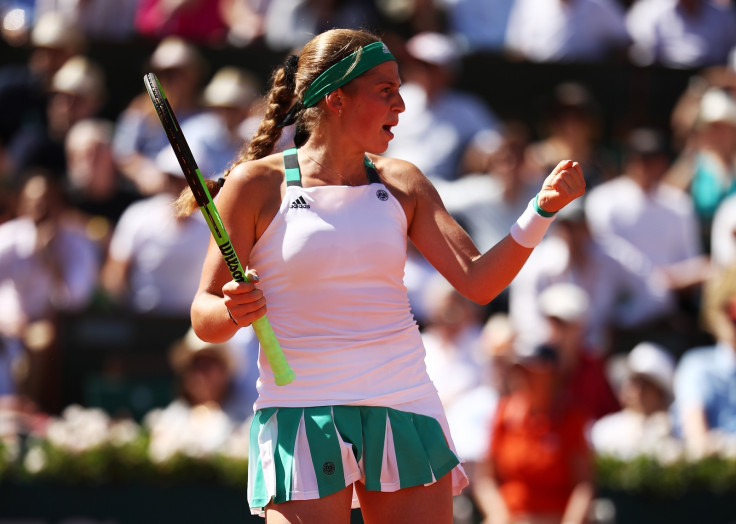 A defiant Halep saw off three more break points in the opening game of the second set and strived hard to secure another break of her own. She produced a battling hold from deuce after initially coasting at 40-0, but Ostapenko, set to jump to 12th in the WTA rankings after going into the tournament ranked at 47, produced a forehand winner after looking in serious danger of being broken once again.
Having advanced past the third round of a major for the first time in her fledgling career, Ostapenko was not willing to go down quietly. The youngest Grand Slam finalist since Wozniacki in 2009 and the first to come from Latvia broke and secured a gutsy hold to level a topsy-turvy second set.
She utilised a rasping forehand to break and was not deterred by failing to back that up with a hold; breaking again and taking the second of two set points on her own serve and teeing up a tense decider with a terrific forehand.
That momentum carried over into the opening stages of the third, with Halep quickly forced to save two break points. She benefited from another series of errors to seal her own break, but again nervously allowed Ostapenko to hit straight back.
The crowd on a sun-soaked Philippe Chatrier Court were now vocal in their support of the Riga-born right-hander, who missed the first of two break points while tied at 3-3 but got a slice of luck with a shot that bounced over off the net cord.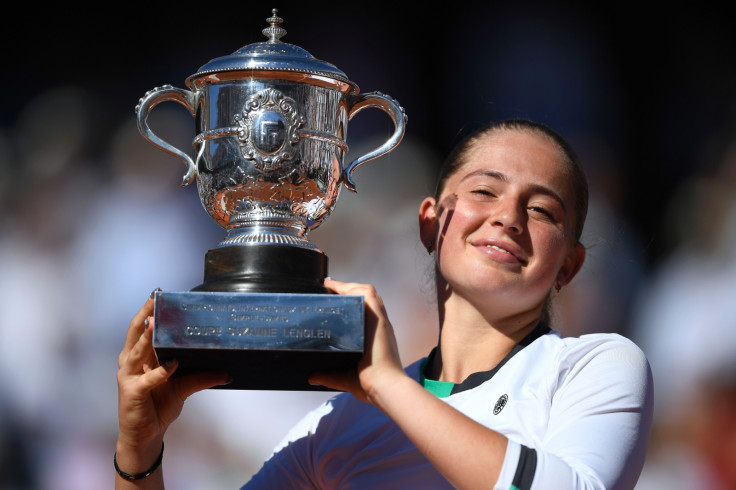 She followed that up with a straightforward hold and brought up championship point with a winner down the line. Another fine backhand strike confirmed Ostapenko as the first player to win her first title on the red dust of Roland Garros since Gustavo Kuerten did it on the day she was born back in 1997.
It was a second French Open final defeat for Halep, who also lost to Maria Sharapova in 2014. Dubbed as the default favourite this time around despite an ankle injury, she missed the chance to supplant Angelique Kerber as the new world number one and instead had to settle for second place after leapfrogging the absent Serena Williams and semi-final opponent Karolina Pliskova. Her wait for a maiden Grand Slam triumph goes on.
"I'm sad I couldn't win it, but it was a great experience," Halep said. "Now I want to congratulate Jelena - it's an amazing thing. Keep it going because you are only a kid. I would like to thank my team, my parents. It's a tough day, but let's keep working and let's believe. I felt sick in the stomach to play in this final, so maybe I wasn't ready to win it, but maybe next time."